Michael Essien To Play In Brentford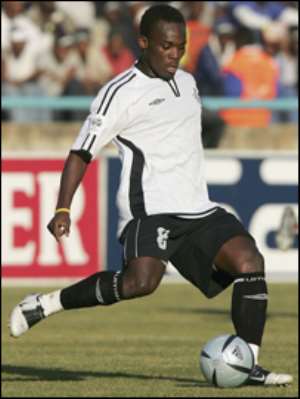 The player at the centre of this summer's longest winding transfer saga will be in action in London this week. But Michael Essien, the Ghanaian midfielder target of English champions Chelsea will not be playing for Jose Mourinho.
Instead, Essien is expected to be in the Ghana Black Stars team to face the Terranga Lions of Senegal next Wednesday (17th August) in an international friendly.
The Griffin Park Stadium which is home to English League One leaders Brentford will host the game being used by both sides as warm up for the next month's Africa zone world cup qualifiers.
English champions Chelsea have been on the heels of the 23 year old since June but have had an amazing FOUR transfer bids turned down by French Champions Lyon.
In the latest development, Lyon coach Gerard Houllier has again left Essien out of his team to play Marseille in saturday's league game.
Ghana is considered the sleeping giant of African Football having won the continental title FOUR times. But the Black Stars have never qualified for a world cup finals. Yet the West Africans are in pole position ahead of South Africa with just two games remaining in group two. And a win for Ghana will move them a step closer to qualifying for Germany 2006.
The current Ghana squad is considered as one of the most talented in recent years. The arrival of Serbian coach Ratomir Dujkovic to Ghana has dramatically transformed the team into serious world beaters. In captain Stephen Appiah who plays for Fenebache in Turkey, Ghana have an all round midfield general.
Another hot talent is Sule Muntari of Italian serie A side Udinese. But perhaps the biggest weapon being employed by coach Dujkovic is the surprise element. A good number of players in his young squad are unknown but desperate to prove themselves at the highest level.
The Lions of Senegal on the other hand,so impressive at the last world cup in Japan/Korea where they beat France,and reached the second round look in danger of missing out on the world cup.
The Lions are two points adrift of group leaders Togo and must win against Zambia on 3 September to revive any hopes of qualification.
Further interest in the game stems from the fact that there are already six Senegalese internationals in the premiership. The most talked about being Bolton forward El Hadii Diouf. Other stars expected to feature include Fulham's Papa Boupa Dioup,Henri Camara of Wigan Portsmouth's Aliou Cisse and Amdy Faye of Newcastle will no doubt attract a sizeable crowd to Griffin Park.
Senegal will not disapoint and will field a strong side as they are expecting a stiff test from the Ghanaians.
Meanwhile Chelsea fans who are undecided about Essien's real worth not are reported to be snapping up tickets to have a peep at the player.
Organisers of the match Kamsports International are delighted at the interest and have not ruled out a Ghana versus England game if both sides qualify for the world cup finals.
A spokesman for the match organisers Kamsports International told the BBC that they are delighted at the level of interest and have not ruled out a Ghana versus England game if both sides qualify for the world cup finals.
Keith Dacy said ''hopefully this is just the beginning of greater things to come and we are optimistic that Ghana will qualify for the world cup finals''
With an estimated 700,000 Ghanaians living in the UK, with almost half that number in London, that match would easily be a sell out.
ADDITIONAL INFORMATION
Admission prices for the match, payable at the turnstiles, are: adults £12 (to sit) or £10 (to stand) while prices for both juniors and seniors in all areas is £5.