March 4, 2018
|
News Regional News
We Are One People; Let's Promote Unity In Diversity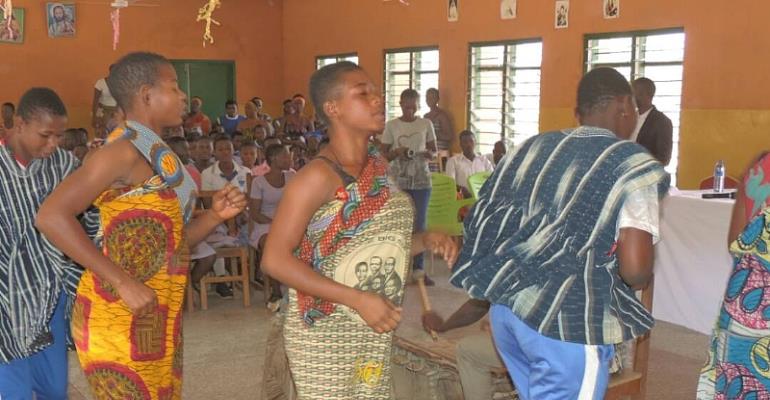 Rev. Fr. Charles Dibin delivering the key address at the maiden school culture festival at St. Ann's Girls' Senior High School in Damongo in Northern Ghana, has underscored the need for Unity.
According to him, unity in diversity is a concept of "unity without uniformity and diversity without fragmentation" that shifts focus from unity based on a mere tolerance of physical, cultural, linguistic, social, religious, political, ideological and/or psychological differences towards a more complex unity based on an understanding that difference enriches human interactions.
"It has applications in many fields, including philosophy, religion] and politics," he said.
He further added that the idea and related phrase is very old and dates back to ancient times in both Western and Eastern Old World cultures.
The concept of unity in diversity was used by the indigenous people of North America, around 400–500 B.C. In pre-modern Western culture, it has existed in an implicit form in certain organic conceptions of the universe that developed in the civilizations of ancient Greece and Rome.
Rev. Fr. Dibin emphasised that "Unity in diversity" is used as a popular slogan or motto by a variety of religious and political groups as an expression of harmony and unity between dissimilar individuals or groups. The phrase is a deliberate oxymoron, the rhetorical combination of two antonyms, unitas "unity, oneness" and varietas "variety, variousness". When used in a political context, it is often used to advocate federalism and multiculturalism.
Cultural diversity he said is the quality of diverse or different cultures, as opposed to monoculture, the global monoculture, or a homogenization of cultures, akin to cultural decay. The phrase cultural diversity can also refer to having different cultures respect each other's differences.
The phrase "cultural diversity" is also sometimes used to mean the variety of human societie or cultures in a specific region, or in the world as a whole. Globalization is often said to have a negative effect on the world's cultural diversity.
Rev. Fr. Charles Dibin concluded by saying that, there are many separate societies that emerged around the globe differed markedly from each other, and many of these differences persist to this day. These obvious cultural differences that exist between people, include language, dress, food dancing songs worship and other traditions. There are also significant variations in the way societies organize themselves, in their shared conception of morality, and even in the ways they interact with their environment and edge students to coexist peacefully make studies their priority irrespective of their difference in culture.
The acting headmistress, Madam Pauline Siesegh in her welcome address stated that St. Ann's Girls' Senior High School has been dedicated to international Educational long before it became an essential quality of the 21th century Learning. Founded in 2003 as part of the Catholic Private World-wide Network of Schools, the school proudly stand as the first all-girls' school in the diocese of Damongo and the West Gonja District where the school is sited.
Madam Siegr said "our teaching and learning are particularly suited to the creative, collaborative, interdisciplinary, and exploratory ways that girls learn best: all students are prepared for the world that needs their global awareness, curiosity, compassion, and willingness to use their gifts in the service to others."
Miss Siesegr in concluding said highly competitive exam results are only one indicators of the success of students.
The girls here, she said, build their confidence, their spirituality their leadership skill and their sense of self.
On his part, Chief Tolodopewura Ahmed Abdallah said we are identified by our unique cultures and we must hold our good cultures to promote self and the communities or the areas we are coming from. As student culture is part and parcel of you and you should not throw or be shy to be practice of your culture. He added that do not look on down upon others cultures but rather your different cultural practice should promote coexistence within and out of campus.
Different culture were in display at the maiden in School cultural festival celebration.
Cultural display by Dagaaba/Sisala/Brifo from the upper West Region. This was followed by the gonja which form the largest student population of the School.
The Bimoba/Chorkosi/ Basari from the eastern corridor of the northern region of Ghana put up a splendid performance follow by the Dagbani.
Another splendid performance came from the Ebo student cultural troop in the School.
As if all was over, the Frafra/Kasim/Moshi from the upper east was a delight to watch.
Another hilarious performance to climax the maiden school cultural festival celebration came from the Ewe/Ga/Akan cultural troop from the southern part of Ghana.