I will miss Ghana - departing U.S Ambassador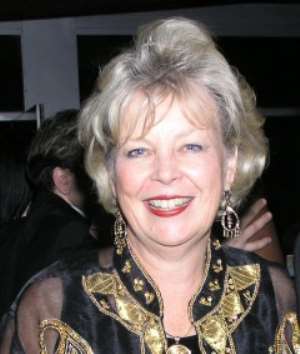 The U.S. Ambassador to Ghana, Mary Carlin Yates has put across her profound gratitude to all Ghanaians and the Ghana government in particular for the high level of hospitability and the peaceful atmosphere offered her during her tenure of office or stay in Ghana.
According to the Ambassador, the warm reception and treatment accorded her by Ghanaians and their government, greatly attested to the fact that indeed there was an outstanding cordiality between Ghana and the United States of America.
"I will miss Ghana and Ghanaians."
Mary Carlin Yates was speaking at a forum organized to affirm her farewell in the Northern Regional Capital, Tamale, on Tuesday August 2, 2005.
The U.S. Ambassador, who could not complete a statement without expressing her deep feelings and appreciation to Ghanaians, therefore stressed "we have exciting prospects for cooperation between our countries (America and Ghana) in trade; in increased business investment; in educational exchanges and linkages; in cultural heritage and tourism development; and much more. I will be following the progress of several of these programmes from afar, envious that I am no longer here to see them realized with my Ghanaian friends and colleagues. The most important thing, however, is to leave a legacy of which one can be proud. I can assure you that I am very proud of the work our embassy has been doing during my tenure here.
Considering her productive time spent in Ghana, Mary Carlin Yates disclosed that, it could be very difficult for her leaving this country whilst there were so many projects still in process but not completed.
Mary Yates who was accompanied by the Acting Public Affairs Officer, Sally Hodgson and Scott Ticknor, the Chief of Political Section of the U.S Embassy, said that Ghana would continue to get support from the U.S government and its development agencies to improve on its socio-economic conditions.
"We at the U.S. Mission, which include our colleagues from USAID, the Peace Corps and our Department of Defense, have partnered with governments of Ghana since the days of independence, to advance an agenda of development, she contended.
The Ambassador however, cited few of her government's assistance to the northern regions in particular, which include; borehole drilling projects being sponsored by USAID and the US Embassy's office of Defense Cooperation, USAID's primary school assistance programs to enhancing reading skills, training for teachers and peace corps volunteers who is teaching in Senior Secondary Schools across the three Northern Regions.
Others are the nationwide malaria prevention and treatment, HIV/AIDS prevention and treatment and guinea worm eradication program as well as the ongoing food aid program to four NGOs in the region like the Catholic Relief Services, the Adventist Development Relief Agency, Opportunities Industrialization Centers International and TechnoServe-Tamale funded by the USAID among other programmes.