February 12, 2018
|
News General News
Military Blasts Media Over Ebony soldier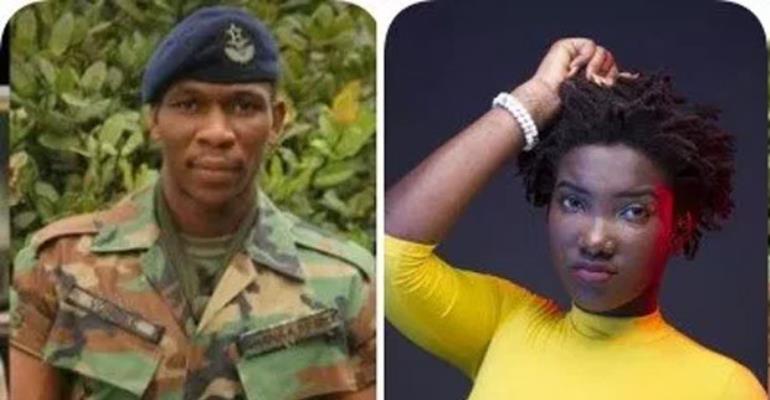 The Ghana Armed Forces (GAF) has denied reports that the Military High Command is taking disciplinary action against the soldier, who died alongside talented musician Priscilla Opoku-Kwarteng, know by her stage name Ebony and another lady.
The three died in a tragic car accident on the outskirts of Nyamebekyere, which is situated between Mankranso and Bechem in the Brong Ahafo Region, around 9 pm last Thursday.
There have been various interpretations and misrepresentations especially on social media after the accident.
Some even went to the extent of saying that the military high command is preparing the deceased soldier Francis Atsu Vondee of the Ghana Air Force to face a court martial because they claimed he went AWOL.
The military, in a statement signed by Colonel E. Aggrey-Quashie, Director of Public Relations for the GAF, set the records straight.
"The Ghana Armed Forces (GAF) has noted with deep concern the false publication which has gone viral on social media after the late Airman 203615 LAC Vondee Atsu Francis died in a tragic road traffic accident with the popular music artiste Ebony," the release said, adding "the reports which allege some actions taken by GAF are not only false but demonstrates insensibility towards the emotions of the rank and file of GAF and the family of the deceased Airman."
Immediate Evacuation
The statement said "following reports of the accident, the mortal remains of the late LAC Vondee Atsu Francis was recovered on Friday afternoon to the 37 Military Hospital, where the corpse was formally identified by the family in line with GAF Standard Operating Procedures. GAF owes a responsibility to the family of the deceased Airman to preserve and produce the mortal remains for burial and funeral rites."
It explained that "all military personnel who get involved in accidents are first evacuated as soon as practicable, irrespective of where the accident occurred."
"Recent cases include the evacuation of the corpse of the Late Cpl Fletcher Carl, who died in a road traffic accident on the Bolga–Bawku Road, and the medical evacuation of officer cadets who were involved in a road traffic accident in the Volta Region."
According to the GAF, "After the evacuation, investigations are conducted to among other things determine the circumstances that led to the accident with the view of putting measures in place to, if possible, avoid or minimize occurrence of similar incidents."
The statement said that "in the instant case of this Airman, investigations are being instituted to unravel the full circumstances surrounding the sad incident."
"It is therefore inaccurate and malicious for anyone to insinuate that the body of the late LAC Vondee Atsu has been detained till it serves a sentence passed by a court martial."
The GAF used the opportunity to sympathize with the bereaved families.