Ceejay Multimedia supports National Commission on Culture 'Wear Ghana Month' with Bill boards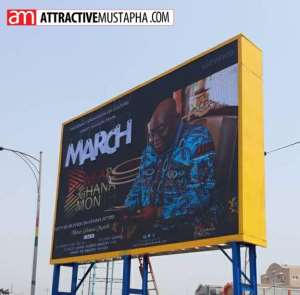 Prestigious Ghanaian entertainment company Ceejay multimedia has mounted bill boards across the country in support of Wear Ghana Month,which is the month of March .
Attractivemustapha.com spotted one of the colorful electronic bill boards at Dzorwulu Junction opposite Fiesta Royale Hotel which has the President Akufo Addo ,first lady Rebecca Akufo Addo, Vice president Bawumia ,second lady Samira Bawumia and Minister for Tourism captured in traditional Ghanaian fabrics on it
Speaking to the Chief Executive Director of Ceejay Multimedia, Mr. Joe Osae,he mentioned his affection towards made in Ghana products and therefore his zeal to support the promotion of made in Ghana wears to Mustapha Nii Okai inusah.
According to him wearing made in Ghana attires will increase the country's revenue.
The director of National Commission on Culture, Socrate Sarfo expressed gratitude to Ceejay Multimedia for the kind gesture.
He then used the opportunity to urge Ghanaians to 'wear Ghana' on 6th March.
Background
The National Commission on Culture and Street Fashion Train declared and set apart the month of March which is our independence month as "Wear Ghana Month".
This initiative is to promote Ghana's clothe culture and heritage by encouraging Ghanaians to wear made in Ghana' clothes and other fashion accessories that are produced locally for both corporate and social functions.
The objective of the programme is to promote local textile industry and reward creativity in Ghana's fashion industry with the aim of bringing our Ghanaian cultural heritage to light.
Attractivemustapha.com