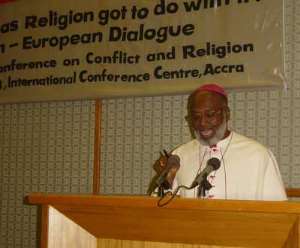 Koforidua, Aug. 2, GNA- The Most Reverend Charles Palmer-Buckle, the Metropolitan Catholic Archbishop of Accra, on Monday said it was improper for any ethnic group in the country to look down on another group of people.
He advised that no ethnic group should consider itself superior to the other adding: ''Since nobody chooses the ethnic group he or she wants to belong to, it is out of place to create any tension by down playing any ethnic group since all groups of people are important.'' Most Rev. Palmer-Buckle said this at the opening of a two-week programme of the 7th Bishop Palmer-Buckle Vacation Youth Camp for 90 young people at Koforidua.
The camp is a recreational facility where the youth could spend their leisure time to enhance their creativity and cultural capabilities, especially during holidays.
The Most Rev. Palmer-Buckle called on parents to invest in the education of their children to enable them to acquire skills and knowledge for national development.
Ms Susana Mensah, the Deputy Eastern Regional Minister, urged parents to inculcate in their children moral values so that they could become useful citizens in future.
She called on the organizers of the programme to extend it to other parts of the Eastern Region.
Mr Kwaku Ankamah, the Regional Director of the Centre for National Culture (CNC), said the CNC had established a culture school where traditional norms and values would be taught and appealed to Ghana Education Service, National Youth Council and other youth related bodies to collaborate with the centre in the training of young people. As part of the programme the children would visit the Cocoa Research Institute at Tafo and the Akosombo Textile Limited. 2 Aug 05