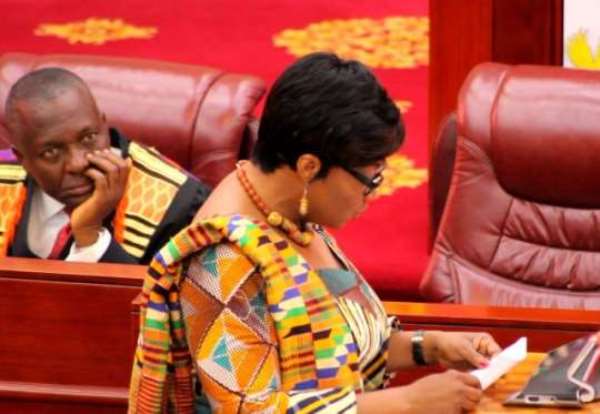 The Gender, Children and Social Protection Minister, Afisa Otiko Djaba, on Thursday, told Parliament that the aged, deprived women and children need proper care and attention and promised that, as part of measures to dignify them, 'the Ministry will close down all witches' camps and put the productive aged poor to work.'
She said there are only two geriatric doctors in the whole of Ghana, and that the day care Centres for the aged do not have geriatrics specialists attached to them.
Geriatrics, or geriatric medicine, is a specialty that focuses on the health care of elderly people. It aims to promote health by preventing and treating diseases and disabilities in older adults.
The Minister's was responding to a question by Ms Laadi Ayii Ayamba, MP for Pusiga, demanding to know whether homes for the elderly (in Ghana) have geriatrics and where they were trained, among others.
According to the Minister, the Ministry has moved away from institutional care, and is placing emphasis on day care facilities and safe places for the aged.
However, there are no national nursing homes, apart from one home for the destitute at Bekwai manned by a 15 member staff.
The Minister said an Ageing Bill is being developed, in collaboration with the Attorney General's Department and other stakeholders, to facilitate the implementation of the policy. The Ageing Policy was formulated in 2010 to mainstream ageing into national development.
Madam Djaba told the House that both the Ageing Policy and a medium term plan of the Ministry was advocating for the training of geriatric doctors to serve Ghana's ageing population.
Among the several initiatives undertaken to implement the policy, includes the celebration of Senior Citizens Say on July 1, and the acquisition of the 'Freedom Pass' aimed at facilitating access to social services including the National Health Insurance (NHIS) and free bus rides.
The MP for Pusiga also asked the Minister what measures the Ministry had put place to ensure that 'the women and girls already living on the streets of urban centres get accommodation and social amenities.'
In response, Madam Djaba gave the assurance that 'the Ministry was working feverishly towards the NPP Government's manifesto promise of shelters for those without accommodation, including women and children.
'In as much as we are providing shelters for the Kayayei does not mean that we want to encourage them to stay in Accra. However, we are working with the National Board for Small Scale Industries and other agencies to provide them with skills training,' the Minster said.
She said the Ministry had received several proposals from the private sector for public private partnerships, aimed at providing high rise, low cost and affordable shelter for the poor and socially excluded, especially women and children.
'In the interim, a few government shelters have been identified for refurbishment, and offers received from the private sector with proposals for joint managements of private shelters."