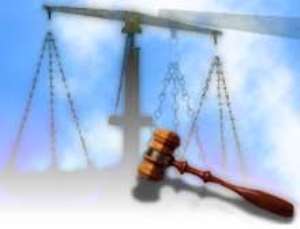 The police have mounted a search for the District Court Registrar attached to the High Court, Daniel K. Nimmo, 40, who allegedly stole money belonging to the Judicial Service and bolted to Togo.
The suspect was said to have designed a fake rubber stamp with which he duped clients of the Judicial Service and pocketed the proceeds. The practice, which was uncovered by authorities of the Judicial Service this week, could lead to the discovery of billions of lost revenue to the state.
Highly-placed sources within the Judicial Service told the paper that widespread investigations had been mounted in all courts throughout the country to determine the extent of the practice and the exact amount lost to the state.
As a precautionary measure to stop the practice, which is believed to be widespread, the Judicial Service is working out modalities with the Bank of Ghana (BoG) to establish bank posts in all courts to provide services to clients of Judicial Service.
To this end, with effect from October this year, all moneys paid into court accounts by clients of the Judicial Service, among others, in Greater Accra and in other regions will be received by officials of the BoG.
In a related development, the Auditor-General's Department is currently investigating the illegal payment of compensation to police officers and prosecutors of motor traffic offences.
The deal led to the loss of ¢3 billion to the state by a particular circuit court in Accra and that prompted the Judicial Service to contract the Auditor-General's Department to conduct thorough investigations into the matter.
As a preliminary measure, all judges who were alleged to have participated in the payment of illegal compensation to police officers who arrested offenders and prosecuting officers have been transferred, pending the outcome of the investigations.