Sunyani Welcomes 7 New Borns On Christmas And Boxing Days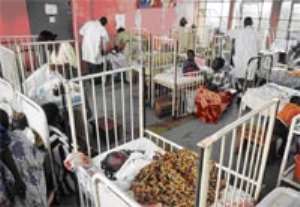 Sunyani, Dec. 26, GNA - The Sunyani Regional Hospital (SRH) and the Sunyani Municipal Hospital (SMH) on the Christmas and Boxing Days recorded seven births with only one caesarean section which occurred due to a prolonged labour.
The deliveries at the SRH were just two at 0540 hrs and 0900 hrs respectively on Christmas Day whilst the rest at the SMH were between Monday morning and Tuesday morning.
The two mothers at the SRH were aged 25 and 40 whereas four of those at the SMH were between 20-25 years, with one who was 31.
The two babies at the SRH were males while those at the SMH were three females and two males.
Ms Ellen Akrasi, the Midwife in-charge of the labour ward at the SRH, advised expectant mothers to attend ante-natal clinics early, upon the realisation that they had taken seed to be educated on the 'danger signs' during pregnancy.
She said this would create the awareness to enable them to go to any nearby health facility for necessary care to ensure that both the pregnant mother and the foetus were in stable health condition.
Ms Akrasi urged first-time would-be mothers to visit established health facilities as they would offer them better service.
She said the two mothers and their babies were in good condition and had been discharged.
Dr Samuel Appiah, the medical officer in-charge of the maternity ward at the SMH, advised pregnant women to 'prepare well' before coming to the Hospital for delivery.
He said they could come along with either a relative or neighbour to assist in the delivery process should the need arise.
Dr Appiah said some pregnant women have been taking some medications not prescribed by physicians, saying that this could result to the death of the mother of the unborn baby.
He said there is the need for pregnant women to abstain from the use of herbal concoctions because it could cause severe bleeding or the death of the mother or child during delivery.
Dr Appiah urged pregnant women to attend ante-natal clinics regularly to ensure safety delivery.
The five mothers and their babies have been discharged as they were in good state of health, he added.