Guinea Bissau President in Ghana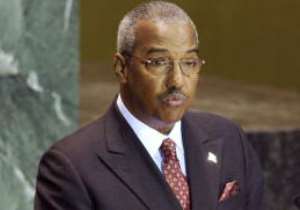 Accra, July 21, GNA - The President of the Transitional Government of Guinea Bissau, Mr Henrique Pereira Rosa arrived in Accra on Thursday for a day's visit.
He was accompanied by a 16-man delegation including the Chief of Staff, Dr Carlos Pinto Perera.
President Rosa told journalists at the Airport that he was in the country to bid farewell to President John Agyekum Kufuor and thank him for his support and exemplary leadership during the Guinea Bissau crisis.
He paid tribute to President Kufuor for his personal efforts and ensuring that the transitional period succeeded. President Rosa said his mandate would end on Sunday after the second round of the presidential elections during which he would hand over power to the winner.
Nana Addo Dankwa Akuffo-Addo, Foreign Affairs Minister, met President Rosa at the Kotoka International Airport.