Danquah Institute Accepts Responsibility To Manage The New Patriotic Party's Ideological Institute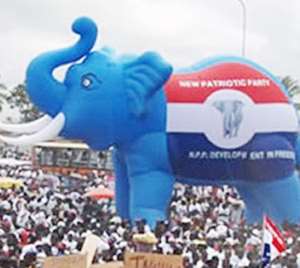 At the National Delegates Conference of the New Patriotic Party held at the Heroes' Park, Kumasi, on 17th December, 2017, the Ag. General Secretary of the Party, Mr John Boadu indicated that the Party is in the process of establishing an Ideological Institute, and the Danquah Institute will be officially mandated to steer the affairs of the Institute.
According to him, "This project, I am happy to say that the Danquah Institute, which has been, over the years, promoting the party's ideology, supporting it with policy interventions, cutting edge research, and organizing training and communication programs for her members, is well positioned to start this noteworthy project". This is a laudable initiative which will not only benefit the Party, but the country as a whole.
We would like to applaud the leadership of the Party, especially the Ag. General Secretary for recognizing the contribution of DI in the development of the Party, and having faith in her capabilities to train the members of the Party, imbibe in them the ideology of the Party, undertake cutting edge research to inform the policy and strategic directions of both the Party and government that will transform the socioeconomic outlook of the country.
With this very important responsibility accorded the Institute, we would like to express to the leadership of the Party our joy, and willingness to effectively and diligently discharge this noble mandate to the benefit of both party and nation.
This confidence repose in the Institute underscores the awareness and appreciation of the Party regarding the Institute's multitudinous contributions towards the progress and development of the Party, as well as the socio-political transformation of the country.
There is no denying the fact that the advocacies by the Institute over the years, have led to several reforms about our electoral process and the deepening of democratic governance in the country; in addition to serving as a worthy example to nations across the globe, especially on the African continent. We would need the support of all, both within and without the Party to succeed.
Signed
Dr. Kingsley Nyarko
(Executive Director)