UMB Accra Open 2017 Ended On A High Note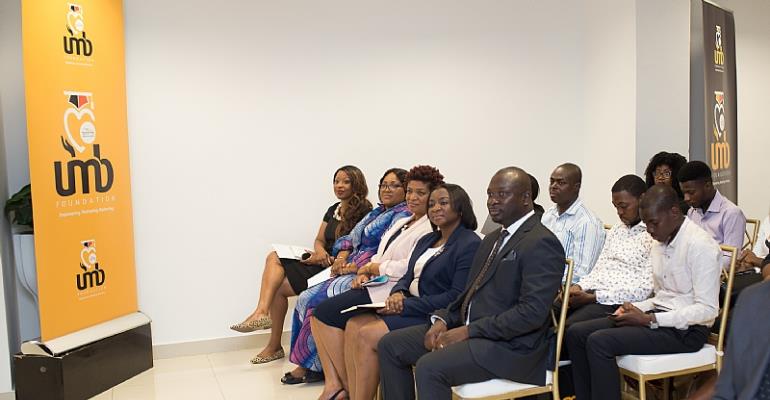 As part of UMB's 45th Anniversary Celebrations, the bank in association with the Achimota Golf Club organized the UMB Accra Open 2017 from the 7th – 10th of December, 2017.
The four-day tournament has been recognized as the capital's finest and biggest major golf event of 2017.
The 4-day tournament commenced with the professionals teeing off on Thursday, followed by Group B Ladies/Men on Friday and Group A joined the competition on Saturday.
Sunday, December 10, was the final day for Group A Men/Ladies and the professionals.
In addition to UMB's cash prize donation of GHs 10,000 for the overall tournament winner, Alliance Motors Ghana also had a special prize of a 2018 Range Rover Velar for the Hole-in-One Challenge but no golfer managed to win it.
All golfers and guests were treated to good food and cocktails catered by the Labadi Beach Hotel all throughout the tournament.
Mr. Vincent Torgah of the Tema Golf Club sensational performance to win the top prize at the UMB Accra Open 2017 Tournament that was held at the Achimota Golf Club in Accra.
Torgah grossed 280 to beat Emos Korblah and Olapade who were first and second runners up, respectively. In all, there were 35 trophies at stake and the winners from the various categories included Men Scratch winner, Kofi Yeboah, who grossed a total score of 147 and Ladies Scratch winner, F. Okyei Gyeabour, who grossed 166. Men and Ladies Group A Handicap winners were Raindolf Amankwah and Christine Furler who grossed a total score of 161 and 199 respectively. Isaac Asante and Afia Konadu in the Men and Ladies Group B Handicap won this category with gross total scores of 86 and 112 respectively. Peace Akwei grossed a total score of 109 to win the Seniors category. The prizes were presented to winners by officials from UMB, Achimota Golf Club and other sponsors.
Commenting after the event, the CEO of UMB stated that "This is our maiden partnership with any golf tournament and it has been a successful endeavor. I express my sincere gratitude to all the co-sponsors and participants for helping to make this year's tournament a success."
Achimota Golf Club captain, Mark Cofie Jr. also described the event as highly successful stating, "It's such an honour to be able to host crack golfers from across the country in this year's UMB Accra Open. We are hopeful that subsequent competitions will be as successful as this one."