Nana Gyedu Kumanini IV Installed Chief of Amakye Bare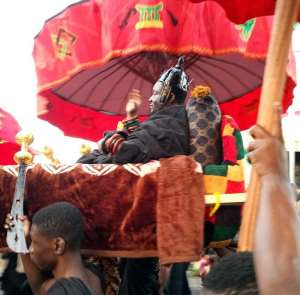 Nana Gyedu Kumanni IV has been installed as the Chief of Amakye Bare after15years of chieftaincy conflict among factions claiming ownership of the throne.
The Abusuapanyin of Amakye Bare Stool, Kojo Mprah said Kumasi Barakese in the Ashanti region has finally gotten an occupant, under the stool name Nana Gyedu Kumanini IV, who is known in public life as Mr. Kwame Alex Frimpong.
He indicated that historically the indigenes of Amakye Bare came from Akyem Kumanini and settled at Offin Ano Bare, Barakese a suburb of Kumasi under the reign of the third Asante king.
According to him, one Nana Osei Kwabena ruled Amakye Bare for 60years and since after his reign the stool has been vacant for almost 15years as a result of some internal wrangling.
However, he noted that through the intervention and guidance of king Solomon Otumfuor Osei Tutu II, the overlord of the great Ashanti empire and his elders, the case was resolved and trashed amicably in the presence of the Bantamahene, Nana Baffour Owusu Amankwatia VI the head of the krontire clan and war Marshall for Asantehene,Tepahene Nana Adusei Antwima Ampem and many others.
The Abusuapanyi added that on Monday 27th November, 2017, Otumfuor and his elders sat in state and resolved the issues between the two parties paving way for the new occupant Nana Gyedu Kumanini IV to swear an oath of allegiance to Asantehene, Otumfuor Osei Tutu and the Asanteman.
He indicated that the second day saw the new occupant Nana Gyedu Kumanini IV been officially introduced to his people amidst singing, drumming and chanting of praises.
Kojo Mprah said Nana Gyedu Kumanini IV sat in state at Amakye Bare to recieve greetings and well wishes from his subject/people and other dignitaries.
He stated that those present at the ceremony were Nana Mamisehene, Nana Kwabena Krofromhene, Obaapanyin Akosua Ataa, staff members of T&G Royal Ghana and partners from Taiwan and the general community members of Amakye Bare.
"Honestly the looks on the faces of the people tells it all that indeed the Joshua to take them to the Promised Land has finally arrived," he intimated.
Nana Gyedu Kumanini IV on his part used the opportunity to thank the Almighty God for his blessings and Otumfuor Nana Osei Tutu for his wisdom, guidance and love as a leader of the Great Ashanti Empire.
He promised to protect, promote the unity and culture that existed among his people which has being the symbol of peace and developments to the people.
The newly installed Chief also advised the youth of Amakye Bare to be law abiding citizens, take their education seriously since it is his topmost priority in making Asanteman proud and great again.