5 December 2017
|
Social Media Trends
Patrick Fynn Announced "Discovery Of The Year" Nominee In 2017 Africa Youth Awards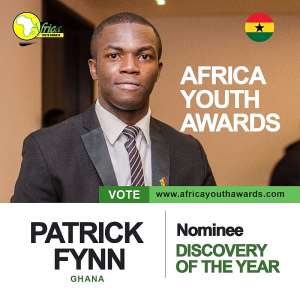 Versatile Ghanaian youngster, Patrick Fynn has grabbed a nomination in "Discovery of the Year" category of the 2017 edition of the continent's most coveted awards for young achievers and change makers.
He is one ofover 140 young Africans selected from 25 countries as finalists for the 2017 Africa Youth Awards.
Patrick Fynn as a burgeoning writer, medical practitioner,leaderand entrepreneur has over the years chalked enviable successes in various endeavours. As an influencer he has played significant roles in social change, life empowerment, artsand health promotion projects.
Among a list of recognitions for his prolificacy is the "Student Author of the Year"award in honour of his best seller motivational book, "You Are On Your Own"and numerous thought-provoking articles.
He is brand ambassador for One Health Unit, a health service provider in Ghana and also works as Public Relations Officer for Firm Bridges Communications and IT firm, Vokacom.
Launched in 2014 and currently in its 4th Edition, the awards has become a recognised platform for young Africans to showcase what contributions they have made to the success of the continent thus far, and the potential that they possess to take Africa to the next level across various key industries.
Nominees which span across 23 categories include: 51 females, 73 Males and 17 organisations in Africa and the Diaspora.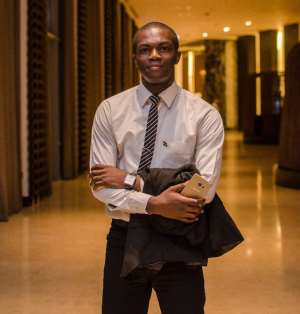 The shortlisted nominees were announced by Africa Youth Awards on 4th December, 2017 and winners will be publicly announced on 1st January, 2018.
Voting which can be done on www.africayouthawards.org/vote is expected to end on 17th December.
According to Terser Adamu, COO of Africa Youth Awards, this year's nominees demonstrates the army of young people who have taken the destiny of the continent into their own hands for positive results. He also encouraged Africans to support the nominees as the continent awaits the announcement of the winners.
Below is the full list of the shortlisted nomineesof the 2017 Africa Youth Awards
ADVOCATE OF THE YEAR
BirweHabmo
Farida Nabourema
Kasindeetumba smith
Louise Kanza
Omoyeleisaac success
PatsonMalisa
AFRICAN YOUTH OF THE YEAR (FEMALE)
Anne Kansiime
Bella Nshimirimana
Dr Faith KudakwasheNyamukapa
Farida Nabourema
PhindileSithole-Spong
TebogoLebanna
AFRICAN YOUTH OF THE YEAR (MALE)
Ihab Amir
IyaTraore
Kwame Antwi-AgyeiOpoku
Millard Ayo
OluwaseunOlogunwilliam
Seth Kwame Boateng
AWARD FOR ACADEMICS
Anna lefatsheMoagi
DikelediAndronicaMokoena
Dr. Mrs Yakama Manty Jones
Lang Loum
Ngozi Marion Emmanuel
AWARD FOR AGRICULTURE
GninlnagnonKoné
Joshua Ayinbora
KwabenaBoateng
Nathalie KpanteGambah
OlawaleRotimiOpeyemi
Pride Machingauta
AWARD FOR DIASPORA ACHIEVEMENT
Ashley A. Opoku
Benjamin Fernandes
FatoumataKebe
Katche Corinne
LudovicBiyong
Yvonne Amponsah
AWARD FOR EDUCATION
Boubacar Mohamed Mahmoud
Eric Pentsil
Gabriel Tekpetey
OusseynouditIbrahimaCamara
Racheal Kalaba
Stephen Creppy
AWARD FOR TECHNOLOGY
Camidus
DrCADx
Flutterwave
Jamii
RoamSmart
Tress
AWARD FOR YOUTH EMPOWERMENT
Bella Nshimirimana
Kwame Antwi-AgyeiOpoku
Masereka Charles Yoronimu
Rose AggreyMmbaga
Thato Edison Diako
Victor Moinina
BLOGGER OF THE YEAR
Adekeye . E. Tosin
ElormBeenie
Gilbert Rwabigwi
Jonilar
Nancy Sumari
Salawu Ibrahim
DISCOVERY OF THE YEAR
Caroline Ngata
LameckKiula
Nadia Owusu
NjikiDjemi Michele Valerie
OlalekanAbdulqudusAkintomide
OluwaseyiAdemo
Omar Said Abdel-AzimMostafaSharawy
Patrick Fynn
ENTREPRENEUR OF THE YEAR
AigbeOmoregie
Clarisse Iribagiza
JokateMwegelo
SandileShezi
Sangu Julius Delle
ShaleenManhireNullens
FASHION PERSONALITY OF THE YEAR
Daniel Odonkor
MaajoaAsabeaYeboah
Matthew Rugamba
Shahbaaz Sayed Yusuf
TetaIsibo
HEALTH PERSONALITY OF THE YEAR
Aisha Ojone Abu
Benson Owusu
EnowAwah Georges Stevens
Jack HisardNyalando
Landry NdrikoMayigane
Richard Selormey
Runcie C.W. Chidebe
LEADER OF THE YEAR
BokangMolelle
KiruhuraBabu Patrick
KitsoBapaki
Ngang Ernest Che
Raphael Obonyo
Zakaria El Hamel
LITERARY EXCELLENCE AWARD
BotlhaleBoikanyo
ChiziteremNdukwe-Nwoke
Diana Mpyisi
Dr. Samuel Tinagyei
JovitaEfehiObadolagbonyi
NoViolet Bulawayo
SylvanusBedzrah
UpileChisala
MEDIA PERSONALITY OF THE YEAR
Millard Ayo
Musah Kofi Idriss
Ngwane Hansel Masango
NwabisaMatyumza
Salma Msangi
SibabalweSesmani
MUSICIAN OF THE YEAR
Hanane El Khader
Ihab Amir
Nasty C
SaadLamjarred
Shatta Wale
Vanessa Mdee
PUBLIC SERVANT OF THE YEAR
Anna lefatsheMoagi
DikelediAndronicaMokoena
KadioKadio Eric
Meshack Omega Omido
Ogunshola Michael
SOCIAL ENTERPRISE OF THE YEAR
Girls Effect initiative
Hope Alive Africa Initiative
Kente Master
TECO² project
Wadi Ben Hirki Foundation (WBH)
Smithmai Company T limited
SOCIAL ENTREPRENEUR OF THE YEAR
DillionPhiri
Franck Verzefé
Jennifer Richard Shigoli
KagisoMadibana
Melvin SongweShuye
PinkrahKwaku Kingsley
SPECIAL RECOGNITION AWARDS
Dr. Franklin Armah Sharp
MakosiMusambasi
ManthomengEulaliaPeahoane
Namnkunda hope mwijuka
Peter Njodzeka
RoselyneNyakona
Ukpohor Excel
STARTUP OF THE YEAR
Intercontinental Paints
Kidoti Company
Lagare.ma
OBRI
Tapera Bio Industries
The Wealth Project Holdings
Catch up on the latest news videos from Modern Ghana.
Advertized