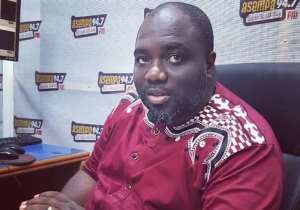 Late Kwadwo Asare Baffour Acheampong
Today is an unusual writing day for me; I think I have had an encounter with a rare Angel, beautiful, elegant, and full of life, and her presence delayed my day, leaving me with only two hours of writing time – not enough time to produce my best.
KABA was not my daily colleague, but one of those media friends who was in my network of Journalist friends, who I reached out to for technical advice whenever I needed to. When I decided to set up a radio station, he was one of those people who provided advice during the process.
Those who have known KABA, closely, have already shared all that needs to be shared. Some of them have shared even those that are not supposed to be shared. Included in this flamboyant memorial of the man we loved, were government officials who cashed in to pay tribute, eulogizing a hero who died unexpectedly.
I observed all the mourners, some broke my heart, and made me tear, even from a distance, others wore tears that looked a bit rented, but all of them came, and they all passed. At a point I thought Multimedia should have stopped the program, because it was getting dangerous, with Captain Smart obviously distraught, and Songo reported to have attempted a suicide, and with some of the female staff traumatizing themselves with unlimited tears – KABA has died too painfully, and too suddenly.
KABA died a brave man, never afraid to ask the critical questions. In the absence of a Right to Information Act, he risked his health, combing through stress, deploying difficult tactics to have access to information, to enrich his program, Ekosii sen, so that you and I could be informed, and educated on the most important national issues.
We have all come to accept, that, it is not about how many years one lived, it is about what changes you have made to the world. I don't agree with people who are fixated with age and its numbers. Mugabe is 93, and so what?
I am imagining, if KABA was still hosting his program, what would he have been discussing today? Would he have been discussing the 2018 budget that has just been read, or he would have discussed his own death, or he would have been discussing the ever fruitless launching and re-launching of sanitation programs in this country?
President Nana Akufo-Addo has launched a National Sanitation Campaign, similar to the National Sanitation Day program that the former President, John Mahama, launched somewhere in 2012 (you remember?). This program is also similar to the Town Council sanitation officers (popularly called Tankase Officers) of the late 1950s, you remember? And is this not similar to the one that was launched by Stephen Asamoah Boateng, in the mid 2000s, when he was the Local Government Minister?
In all of these, what do you think has been the impact, after spending several millions of Cedis, what has been the impact on our sanitation situation? The beaches in Winneba are still flooded with men and women celebrating themselves, in the open! Our gutters are still chocked, and we have Zoomlion workers removing debris from the gutters, and putting them right back into the gutters, so as for them to continue having their jobs.
We have environmental officers who sit in their offices and sign papers, and when citizens request their services, they would demand a fee before they act. We have cholera still breaking out, and killing hundreds. And we have floods as a result of poor drainage systems.
As our problem compound, we need men and women who will ask the most important questions; for instance, why do we need another sanitation program, when there already exists several different programs consuming millions of cedis, without achieving any results, why should we believe in the new one?
As media men and women, I believe the best tribute we could pay to our brother, KABA, is to host his program, Ekosii sen, in our hearts, and become our own media, subjecting our men and women of power, to prove the sustainability of what they do with our resources.
The Finance Minister, Ken Ofori-Atta, has just read the 2018 budget. Our members of Parliament are discussing this budget statement, and very soon it will be debated on the floor of the house. We need men and women who will put the budget to test, to ask the most important questions, to challenge our law makers to think beyond partisan considerations – we don't need Journalists who will be writing in praise of the government, ever afraid to offend those who wield power - we need to hold our roles firm, as tribute to KABA, and all of our colleagues who have died in the course of pursuing justice.
My brother, our country is sick. Half of Ghana is filled with sycophants – full of people with "yes sir, master" mentality, bowing in anticipation of receiving the cramps. The other half is filled with cowards, greedy individuals and saboteurs, all determined to cause more pain to the state than to repair. There are only a very few people who are able to stand up, and tell people in the face that they are wrong. Our silence is allowing the governors to put wrong people into positions of authority, depriving all of us, of the quality of leadership that we so desperately desire. That is why the loss of some of the very few voices goes beyond a family grief, into becoming a national loss.
We have already lost a number of them – Komla Dumor, Samuel Nuamah, and many others. We still have a number of those with strong voices who refuse to be put down, who needs to be protected, and especially the many others who can look into the eyes of public office holders and tell them "you are lying".
I agree with Kwesi Pratt that KABA's life is a lesson for all of us. If you have not had a sudden death in your family, you will never understand the essence of regular medical checks, and spending a little bit of our time and money sitting in the hospital for the doctor to look for what is wrong, or what is about to be wrong in our bodies.
Unfortunately even those of us who have regular checkups will go for only routine blood and urine tests, sugar and pressure levels, forgetting that these days people under 20 are getting prostate and breast cancers. We forget that the deadly fast-pacing pancreatic cancers which used to affect people of 40 years and above, are now taking men and women below age 20!
A friend recently went to the hospital for a routine check. He was never sick, neither was he experiencing any symptoms of illness. He just walked in, and upon examination, the doctor asked for him to be detained. He protested. This is someone who is much younger than you would think, and this is someone who had no known health problems. But the doctor insisted, and he remained on hospital admission for over one week! According to the doctor, it was sheer luck that my friend walked into the facility; otherwise he was on his way to a major stroke, as both sugars and pressure were beyond the threshold of survival.
I used to sit in a 12-hour direct flight from Ghana to America, without moving out of my seat, even to pass water. I was so wrong; it took the news of the death of the brother of Kwame Sefa Kayi of Peace FM, to learn about the deadly Deep Vein Thrombosis (DVT), and its associated Pulmonary Embolism (PE), which recently killed a cousin of mine also. I Googled to learn what it was, DVT and PE, and once I found out, I knew that I was a potential candidate, especially with frequent travelling that required that I sat in the plane for long hours, I knew I had to change my lifestyle during flights.
So our brother is gone. We are mourning. But in the process we should not forget what he stood for, justice, fairness, truth, accountability, and the rule of law. Elsewhere the death of such a personality would have spared the government on to pass the Right to Information Bill – that would have been the best tribute to the memory of KABA. Who knows, the difficulties of securing information for the work of a Journalists, contributes to the deteriorating health of many Journalists in this country. Just pass the Right to Information Bill, and you will save the lives of many Journalists, and you will never have to shed tears at their funerals.
James Kofi Annan