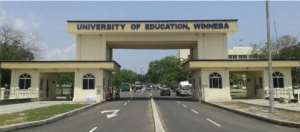 Today I don't hope to be a friend to anyone, but I hope to be understood by those with discerning and objective minds. There is a disgusting tribal game going on in the University of Education, Winneba; that needs to stop.
We are all pretending that it is not happening, we are all afraid to take a stand, and those with rotten minds are taking advantage of our collective fear, of calling it by its real name, "Ewes playing victim".
Due to our collective unwillingness to call the game by its name, those perpetuating the wrongs are hiding behind tribal solidarity to perpetuate their rot, in the hopes that they would always have their tribesmen getting in line in support of them, blinded by the tribal sentiments, rather than common reasoning.
In writing this article I am aware that I have a lot of Ewe friends who love me, and who I also love dearly, and whose relationships I will in the long cherish, I have a lot of cousins and nieces who are married to Ewes, and who are now part of my family – for all of you I write this article - in our collective long search for a closure, to rid our fold of those who have caused a long held Ewe stereotype in our families; they behave wrongly, in the hopes that when they clothe themselves with the Ewe tag, they would find solidarity, and such solidarity when it comes, perpetuates the said long held stereotypes we so much detest – it is this same blinded blood solidarity (us, against all others) that frustrates our grandmothers, in their bid to give their blessing for their grand children for intermarriages – let's stop the blind solidarity.
So I am aware of the sensitivities around this article, but I still need to bring the subject to life, to the open, as another shield of protection for those Ewes I dearly love and hold in heart.
The UEW is embroiled in an unnecessary self-victim Ewe war; the university was taken to court for suspected criminal and corrupt acts on the part of some senior officials. The plaintiff succeeds in getting some officers interdicted by the High Court in Winneba. Subsequently the EOCO, BNI, and the university's Governing Council, joined in the pursuit of the case.
The entire saga has now been turned into a tribal war (after it failed to assume a political dimension), with the Ewes accusing everyone else of tribal discrimination. The supposed Ewe victims have succeeded in whipping up the Ewe sentiments among the Ewe community, and there are now regular daily high level Ewe meetings on this issue, in solidarity with the interdicted Ewe senior staff members.
I previously wrote three articles on the issue, showing why I support the steps being taken to clean the University of the filth. Since that article, I have been variously accused of joining the tribalism brigade targeted at Ewes.
Last week I happened to, accidentally, tune in to Ahotor FM's morning show, hosted by one Hitman. They happened to be discussing, among other things, the issues at the UEW. Both the host and the panelists minced no words in attacking everyone, that "Ewes are being targeted for discrimination, at the UEW".
The persistent use of the word "Ewe", both on radio and in print, by those who are crying tribalism, hit me, and sent me thinking, "who are the real victims in the UEW scandals?" Are the Ewes the victims, or they are playing victims?
I have previously mentioned a similar situation at the University of Ghana, where the then Vice Chancellor, the late Professor Assenso-Okyere, was interdicted by the Governing Council of the University, for an examination malpractice committed by his son. He was interdicted, and the university made sure that he was never allowed to resume his post as a Vice Chancellor, although he was not the one accused of the malpractice. In that instance too, like the case in UEW, the then Pro Vice Chancellor was asked to act as a Vice Chancellor. What did tribe got to do with that interdiction?
I am an Effutu person, from Winneba. I once operated one of the biggest and self-resourced printing press companies in Ghana. My clients, at the time, included some of the priced companies in Ghana. I printed some of the most sophisticated, as well as the simplest jobs in the country. I am the one who printed the Free Tsatsu Tsikata Movement booklets, I printed the H1N1 Evian Influenza awareness leaflets countrywide, I printed all the deposit slips used in Barclays Bank, I printed for the Millennium Challenge Authority, I printed for MTN, Ghana Telecom, and my clients included some of the most demanding advertising agencies in the country, including Stratcom Africa, Origin8, Barclays Bank of Ghana, etc.
In 2007 I introduced my company to UEW. I met all the requirements for being able to print for the university. I sought an opportunity to be a printer for them, to be invited to participate in any printing bidding process and to be given a printing job. I kept following up, for nearly every week for nearly five years! I was never given even a single printing job, neither was I ever invited for the opportunity to participate in any bidding process in the university.
Madam Mary Dzimey, who is the head of the procurement unit, who eventually became my mate at the Law School, is from the Volta Region. Do you think I should have accused her of tribal discrimination? Is that what I should have done? Or should I have accused her of engaging in a tribal war with me?
Till today I have never ever secured any single contract from the university, although I run a lot of businesses in Winneba that qualify to be working with the university, but I have never accused anyone of tribally discriminating against me.
After eight years of being denied any opportunity to participate in a bidding process, Mary is now one of those who have been interdicted, for suspected procurement malpractices, for which reason people are complaining of a tribal war in the University. Why didn't anyone accuse Mary, in the first place, of tribal discrimination, when she denied me the opportunity to participate in any bidding process? Why should it be, that, it is always Ewes who are victims of some tribal discrimination, but it is ok if they are the ones dominating others, why?
My good friend and senior, Professor Victor Kweku Bondzie Micah, who is currently the Pro Vice Chancellor at the Takoradi Technical University, had his PhD at the UEW. He is a native of Winneba. He lives in Winneba. He has his family in Winneba. He applied to be appointed as a lecturer at the university. After four years of intense follow ups, he gave up, and moved on with his life at the Takoradi Technical University.
During the course of Professor Micah fighting for a lectureship position in the University, two less qualified Ewe women were employed as lecturers in the same department where Kweku did his PhD, and was seeking a lectureship position. None of the two ladies had PhDs at the time of seeking employment, and none of them had previous experience. Neither Professor Micah nor those of us who supported his bid, ever accused the university of tribalism; but why not? In the scheme of whatever is happening right now, does this not, rather, look like a tribal war on others?
Currently almost 65% of the top 50 senior staff members at the UEW, have Ewe origins, with the Northern Region recording none. Last year a total of 32 lecturers were employed at the University. Nearly 40% out of the new lecturers were Ewes, with the Eastern Region recording none. Until recently when there have been the interdictions, four out of the top six senior most officers of the university were all Ewes. I never heard anyone complaining of tribalism in this skewed instances. There are some non Ewes amongst those interdicted, why are you not complaining about them too?
I am not an Akan. I am not an Ewe. I am not a Ga. I belong to a minority tribe, Effutu. You are enjoying your majority at UEW. I have not complained against you. But when it is now time for you to account for your stewardship, you are adding me up to Akans, and accusing me of tribalism?
My brother, there is no Ewe war at the UEW. Those fanning the Ewe sentiments are either doing so out of fixated stereotypes, or are blind beneficiaries of what might have gone wrong in that institution. The UEW is going through a rigor for accountability – those who are innocent shall eventually be exonerated - no one should hide behind anything, whether tribal or political, to dilute the conversation.
James Kofi Annan