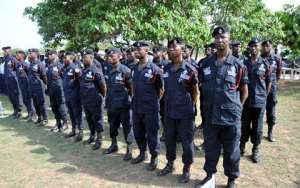 The police has blamed the sudden resurgence of criminal violence in Kasoa in the Central Region on shortage of personnel.
ACP David Ampa Bennin says the criminals took advantage of the security gap created as a result of the police's decision to change the 'guards' stationed in Kasoa.
According to him, the police personnel who were patrolling the area had to take some rest for a while but there was no immediate replacement leading to that breach.
In the absence of the men, two persons have lost their lives and one battling to keep his, after they were attacked in a spate of two weeks.
Last week two persons were gruesomely attacked, one of them fatally, in and around Kasoa in the Central Region. Residents believe the attacks are land guard related.
First, a 52-year-old commercial bus driver was killed after an altercation over transport fares. Family and residents have been quick to link the murder to a tussle over land and have since been on a warpath with authorities demanding justice.
Even before the dust on that attack would settle, 21-year-old Kwame Osei is currently battling for his life after he was attacked with machetes supposedly by land guards for refusing to hand over his money to them.
Yesterday, the peace at the Peace Garden Guest House was mutilated when a receptionist was allegedly raped and shot by assailants.
She died shortly after the attack. The spate of violence has left the residents vulnerable and exposed.
ACP Ampa Bennin who is the Police commander in the area told Joy News' Gifty Andoh Appiah the gap created as a result of the absence of the police could be attributed to the resurgence of violence in the area.
He however assured the police are back at station and will increase snap checks and foot patrols especially at night, to control the attacks.
When he was asked why it had to take the loss of lives for the police to return to post, ACP Ampa Bennin insist the police is "under staffed" which made it impossible to immediately replace those who had to take leave after months of patrol in the area.
Asked if there have been any arrests in the rape attack, the police commander said they are still conducting their investigation but no suspect has yet been arrested.
He however confirmed that three persons have been arrested in the attack of the 52-year-old
He denied assertion Kasoa is losing the war against violent crimes insisting they working to reduce, if not prevent it.
Contributing to the discussion, the head of the Kofi Annan International Peace Keeping Training Centre, Dr Kwasi Aning called for more intelligence gathering and proactive intervention to fight the menace.
He said the situation in Kasoa reflects urban expansion and the population explosion, warning similar violent attacks could be replicated in many parts of the country if steps are not taken to fight the canker in a more meticulous way.
Story by Ghana|Myjoyonline.com|Nathan Gadugah