Vice President cautions Muslim youth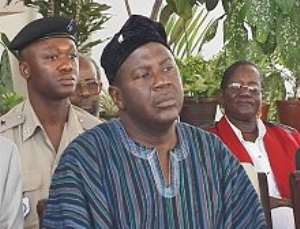 Kumasi, July 09, GNA - Alhaji Aliu Mahama, the Vice President, has cautioned Muslim youth against acts that can throw the country into turmoil. He said Islam stood for peace and urged the youth to abide by the tenets of the Koran and the good values of the religion. Alhaji Mahama's caution was read on his behalf at the inauguration of the Ashanti Regional Branch of the United Front for Islamic Affairs, in Kumasi on Saturday. The Front is aimed at uniting Islamic groups in the region, to enhance co-operation, unity and tolerance among Muslims. The Vice President expressed concern about the increasing spate "gangsterism" among the youth, especially in Zongo communities, saying, "With such attitude, you do not only destroy yourself but also wrongly identify Islam with violence". He urged Muslim leaders to lead exemplary lives and to inculcate the good moral values of the religion in the youth and tolerance among the various Islamic groups.
Alhaji Mohammed Mubarak Muntaka, MP for Asawase, advised Muslims to embrace secular education, which he said was the only guarantee to survive in these difficult times.
He urged Muslim extremists to soften their stance on secular education, saying, " It is not a sin for one to be educated". Sheikh Usman Bare, an Islamic scholar who spoke on "Unity, the basis for Islamic brotherhood", expressed optimism that with the inauguration of the Front, differences among the groups would be resolved to facilitate the effective propagation of Islam. A 15-member Interim Management Committee (IMC), headed by Alhaji Suala Bamba, was inaugurated to run affairs of the Front.