Abronye DC Commends Akufo-Addo For Reviving NHIS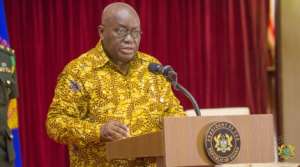 Maverick Brong Ahafo Regional Youth Organizer of the ruling New Patriotic Party (NPP), Kwame Baffoe popularly called Abronye DC, has commended President Nana Addo Dankwa Akufo-Addo for paying some part of the debt of the National Health Insurance Authority which was accrued by the erstwhile John Mahama led administration from 2014-2016.
Speaking to the media on October 30, 2017, Abronye DC said President Akufo-Addo administration came to power to meet a huge debt of Gh1.2 billion at the Sector.
He expressed worry about how the Authority under the watch John Mahama led administration, was finding it difficult to pay its debt but went ahead to award contract to NDC supporter, Salashie Ibrahim at a cost of Gh15 million to do 'Health Promo' hence to inform Ghanaians to register under the National Health Insurance Authority.
According to the outspoken Young Politician, Abronye DC, during the swearing-in ceremony, President Akufo-Addo promised to wipe out the entire debt due to the providers to avoid the issue of turning away patients by the providers.
He added, "So far Gh 724,644,665.46 million has been paid out of the Gh1.2 billion left by the incompetent JDM and this has explained why service providers have not been talking for the past ten months that government owes them".
"The competent government under President Nana Addo is doing what they want. See the breakdown of payments so far made to service providers; (1) 30/01/17 Gh2,804,442.36 million (2) 30/02/17 Gh58,591,670.64 million (3) 30/03/17 Gh2,491,619.67 (4) 30/4/17 Gh60,106,140.64 (5) 30/04/17 Gh 63,031,597.75 million (6) 30/5/17 Gh61,055,615.09 (7) 30/07/17 Gh 103,000,201.02 (8) 30/08/17 Gh147,146.601.13 (9) 30/09/17 Gh 50,350,489.89 (10) 30/10/17 Gh52,808,930.14 . Total Gh724,644,665.46 million.
Kudos to the President for delivering on his promises, kudos to the CEO of National Health Insurance Authority and his Deputies, kudos to the Finance Minister and kudos to the Health Ministry for restoring the image of the National Health insurance Authority back to its original status".
Source: Daniel Kaku