Biggest Health Festival To Hit Kasoa, As HOPE Leads Campaign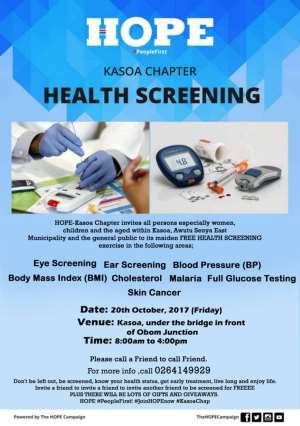 HOPE Army- Kasoa Chapter is organizing a free health screening and health advice for the people of Kasoa and its environs. The exercise which is scheduled to take place on the 20th of October, 2017 in front of the Obom Junction bridge, Kasoa, is expected to offer free health screening and advice to the people that will include eye and ear screening, Body Mass Index (BMI), full glucose test, blood pressure, malaria, dental care, and general ailments.
"It is the first time we as an organization, we are doing a programme like this to help the people of the community, and we are very happy about it", says Kobby Kings, an executive member of the group.
The exercise is in collaboration with Pink FM and Awo Komi, a deliciously and nicely packaged kenkey for sale, and with support from the Municipal Directorate of Awutu Senya East Municipal Assembly.
The supporting partners are Watborg Eye care, Justab Hospital, La Fe Eye Care, Springfield Dental Clinic, Aboagyewaa Hebal Clinic and Lab Medics.
Asked about the motivation behind the exercise, the chapter lieutenant of the Kasoa chapter, Nana Kofi Ntiamoah said that he was motivated to see people strong, healthy and alive. To him, "life is sweet, and one must be able to live long enough to enjoy it", and this he explained could only be achieved when people constantly checked up and knew their health statuses.
He used the opportunity to thank all his chapter executives and members for helping come up with this initiative and also contribute selflessly towards the success of the exercise.
He called on the people of Kasoa, those in Awutu Senya East Municipality and all Ghanaians to take advantage of such opportunities to have their health screened and advised for free. He also admonished Ghanaians to embrace the attitude of constantly checking their health statuses and seeking immediate attention to their health needs.
In what is billed to be the biggest health festival of its kind in Kasoa and its environs, the event is expected to attract the presence of big men and women in society including the Member of Parliament of Awutu Senya East constituency and Minister for Special Development Initiative, Hon. Mrs Mavis Hawa Koomson, the Municipal Chief Executive of the area, Hon. Michael Yaw Essuman Mensah and a host of other dignitaries.
HOPE is a nationwide progovernment organization premised on Honesty, Opportunity, Prosperity and Education. The
organization has local branches (called Chapters) across Ghana and is open to the general public, young and old, professionals and non-professionals and anyone who wants to be an agent of HOPE in their locality.
The organization uses military terms such as Champs, Commanders, and Lieutenants to address their patrons, national and local executives respectively, whiles members are addressed as soldiers; and they go by the hash tag #PeopleFirst