August 21, 2017
|
Diaspora Diaspora (Germany)
Borrow Wisely And Utilize Prudently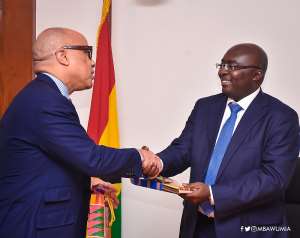 It's quite unfortunate the NDC Minority in Parliament and their Communicators keep saying the NPP deceived Ghanaians. They are accusing the Vice-President that while he was the running mate for the NPP, said that the country need not borrow, as there are a lot of resources in Ghana and when the NPP win power, they will not borrow.
The NDC should quickly provide evidence to proof where Dr. Bawumia said the NPP would not borrow when they win power. The NDC must stop insulting Ghanaians. Are they the only intelligent people in Ghana or they think Ghanaians do not have brains in their heads?
No country can develop without international collaboration in one form or the other. Thus equated loans generally. But borrowing and using it to pay acquired loans over and over again without putting it into production, end up agrivating the situation economically. Borrowing to finance contracts through sole sourcing with inflated prices, is how the NPP will not borrow.
For example, Vice-President palace of 138 million dollars, Ameri deal, Bus rebranding,etc. NDC borrowing didn't show value for money, but it was profligate borrowing on the ground. No government can say they won't borrow money, but you have to borrow responsibly and not recklessly. We saw the recklessness with which they handled the money they borrowed.
Most of the projects are not worth the massive borrowing that the NDC bequeathed on Ghanaians. They misused what they borrowed, thus creating debt which must be paid. Again the huge deficits they left, must be balanced with prudent economic policies. At this stage, the government has no choice but to go out and borrow, and use the borrowed funds to generate economic growth to reduce our debt.
Those who led the country to this state are no longer in power but in a position to throw dust at anybody who point at their ineptitude and how deep they have taken the country into the abyss. Ghana, the shinning star of Africa, where the natural resources and human capital we have, should have moved the country beyond this sorry state.
The NDC was in power for 8 years and Ghanaians saw what they did to the economic situation they inherited. We must as a people review the way we fall prey to the NDC political gimmicks. Majority of Ghanaians are confident the NPP government under the leadership of President Nana Addo Dankwa Akufo Addo, will turn the country around positively. The catch word is borrow wisely and utilize prudently.
Alex Tuffour
Communication Director
NPP Germany