11 August 2017
|
Headlines
Give African youth opportunity to lead – Kofi Annan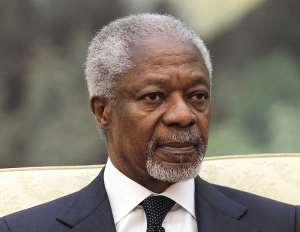 Former UN General Secretary, Kofi Annan has called on African governments to invest in the youth and give them opportunity to lead.
Speaking during a lecture on leadership and public service dubbed 'An afternoon with Kofi Annan' organized by the alumni of his alma mater Mfantsipim College, Kofi Annan asked African governments to "offer our growing population, the opportunity for employment."
He was quick to add that African leaders  "must allow African youth to lead us into the future with enlightened modernity rooted in African values."
He also entreated African leaders to "remember the youth of the past leaders."
Kofi Annan recalled that since "Kwame Nkrumah was 48 when he became the first leader of Ghana in March 1957 and Gamel Abdul Nasser was 38 when he became Egypt's second president in 1956," African leaders must "remember that one is not too young to lead nor too old to learn."
He also chided African leaders for their desire to clinch to power through fraudulent elections.
"A growing number of Presidents are changing their constitutions and subverting elections to remain in power indefinitely. According to international watch dogs, democratic freedoms seem to be in retreat on our continent. Although governments organize elections, many lack integrity."
In light of the challenges he mentioned, Kofi Annan asked African leaders to "ponder important questions" on whether they had "invested our revenues in areas that will benefit the people, particularly the young?"
He believes African leaders could harness the potentials of the youth by strengthening the three pillars of healthy democratic societies thus, ensuring peace and security, inclusive development, rule of law and respect for human rights.
Kofi Annan said these pillars should be taken holistically and serve as the foundation for Africa's development agenda.
"A leader must listen…a leader must listen to what is said… and above all, to what is not said. A good leader must also be a good follower and when leaders failed to lead, the people will lead and make them follow …We need strong institutions to buttress our system, we also need to think beyond the State, strong businesses, strong civil societies to hold government to the promises they make to the people will just as be important".
Masters of our own destinies
Kofi Annan indicated that African leaders "cannot fail to meet our youth's aspiration with opportunity" adding that the decisions African leaders "take today, both in government, in business and civil society will determine whether the continent can ride the fourth wave successfully."
"More than ever, out future is in our hands. A bright African future is one that requires Africa's people as central agents. We must ride the wave that begun long ago at independence to come together to affirm the way forward for the continent."
–
By: citifmonline.com/Ghana
Contracts awarded to the sister-in-law has raised questions of conflict of interest.
Advertized