Work swiftly to end 'Dumsor' - NDP urges government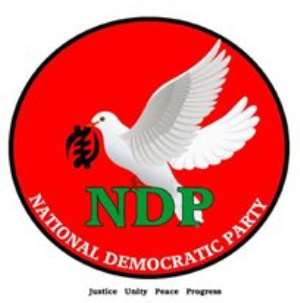 Cape Coast, July 25, GNA - The National Democratic Party (NDP) has pledged to fully support the current administration to deliver on its mandate because its policies of probity, accountability and social justice were inherent in what the NDP stood for.
Consequently, it has called on the New Patriotic Party (NPP) administration to act swiftly to solve the power crises and other economic issues that had bedevilled the nation for years.
The power crisis, the Party noted had been the bane of Ghanaians for too long and therefore behoved on the current Government to do all that it could to end it to consolidate the confidence reposed in them.
The NDP in a statement signed by its Central Regional Chairman, Mr Sam Amoh and copied to the Ghana News Agency (GNA) in Cape Coast, advised the NPP Government not to repeat mistakes made by its predecessors in handling the issue.
The NPP, it said, should take a cue from the records and massive landslide defeat against the NDC to win the hearts of majority of Ghanaians who became embittered after experiencing massive Dumsor under the NDC.
It said Government must start without delay the Rural Electrification Programme (REP) and the Self - Help Electrification Project (SHEP) devoid of politics as any further delays would create problems for the poor consumers.
The statement further entreated the Government to constitute a new Board for the Electricity Company of Ghana (ECG) to ensure effective administration to build the energy front, describing the non formation of the Company's Board as disturbing.
'So long as we have accepted by example that the President is a listening leader and father, we hope that his appointees would also behave as such,' the statement added.
'We trust the ruthless on and capable nature of the Energy Minister yet we are making this humble appeal for him to sit up,' it further stated. GNA
By Afedzi Abdullah, GNA