Free SHS Will Help Me To Save More Money For Projects - Tano North MP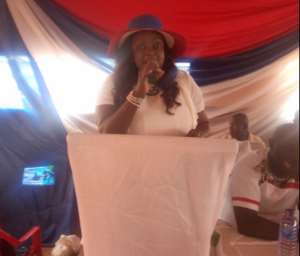 The Member of Parliament (MP) for Tano North and Deputy Minister for Works and Housing, Hon. Freda Prempeh, have stated that the implementation of the governing New patriotic Party's (NPP) Free Senior High School (SHS) education policy will help her to save money for construction of more infrastructures in her district.
"I was really happy and thankful when I went to church on Sunday; the reason behind my happiness was that this year the NPP government led by our president Nana Addo will begin Free Senior High School (SHS) in September 2017,which will help me to save more money to build projects in my constituency" she said.
Hon. Freda Prempeh, in interview with Metro 90.5FM, during Tano North NPP delegate conference on Sunday,9 July, said majority of people from her constituency come to her for school fees any time school open.
"I no amount of money I have spent on school fees for the past four years, but this year through the good policies from NPP administration no one has come to me for school fees, that's why am happy " She stated.
"Free education is a good policy, because it will give every Ghanaian child, regardless of the economic status of parents, the opportunity to have a secondary education; it will create a well-informed society and as a result empower the citizens to appreciate national policies necessary to propel economic growth and development" she sated.
"From September this year, anybody entering the public Senior High School system is going to get their education free".
She said the NPP government will also implement planting for Food and Job campaign, one village one Dam and one district one factory which will create job for Ghanaians.
"I will do my best for Tano North constituency to get more than one of the one district one factory policy because Tano North constituency have a lot of products, like pineapple, coffee, clay product among others" she added.
According to Hon. Freda Prempeh, Tano North constituency has started working on the one district one factory as chiefs in her constituency has given the government 28 acres of land for the construction of a factory on clay products like Bricks, caps among others.
"We have already employed people working on the land, wall and office has already been built while waiting for the fixing of the machines from Italy and we will also recruit more youth after the fixing of the machines" she to Metro FM.
Hon. Freda Prempeh, promised Tano North residents of ultra modern office which will have conference rooms and offices for them.
"As you have prayed and support me for the appointed as Deputy Minister for Works and Housing by President Nana Addo, what I can do to thank Tano North constituency is to build ultra modern office for you" he concluded.