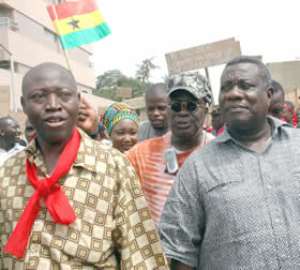 Kumasi, May 26, GNA - Contrary to speculations, the Committee for Joint Action's (CJA) demonstration dubbed "Wahala Four" was on Thursday staged in Kumasi in an atmosphere of peace and was completely devoid of any counter demonstration or confrontations. The three-hour demonstration that was attended by a large number of people from various walks of life included the former Vice President, Professor John Evans Atta-Mills and other key leaders of the CJA like Mr Kofi Totobi Quakyi, Mr Kwamena Ahwoi, Mr Ato Ahwoi, Alhaji Ahmed Ramadan and Mr Danny Ofori-Atta. Led by their leaders, the demonstrators started the march from the Central Post Office amidst tight Police guard through Prempeh II Street; Adum; Kejetia Roundabout; Central Market to Roman Hill and eventually converged at Jackson's Park, where they were addressed by their leaders. Aggrieved petty traders and shop owners joined them as they marched along the designated routes. Some of them bore placards that read: "NPP Reduce Tax on Fuel"; "Petroleum Products, We are suffering" and "NPP Stop The Divide and Rule Tactics". Addressing the gathering, Prof Atta-Mills said the "Wahala" demonstrations would continue to gain momentum and would be extended to other regions and towns unless the Government yielded to demands to lessen the economic hardship on Ghanaians.
He said they were not out to sabotage the Government but to draw its attention to the plight of the suffering masses to enable it to find a more positive solution to it.
Prof Atta-Mills advised organised groups and individuals to be bold and courageous to express their disapproval about the hard economic situation they currently found themselves in.
He commended the security services for helping to ensure law and order and making the demonstration a peaceful one.
Alhaji Ramadan said the NPP Government should not only be blamed for its inability to create new jobs but also for presiding over the collapse of existing organisations, firms and industries. PIC: Archive