'You're a great husband'- Wife of Major Mahama
News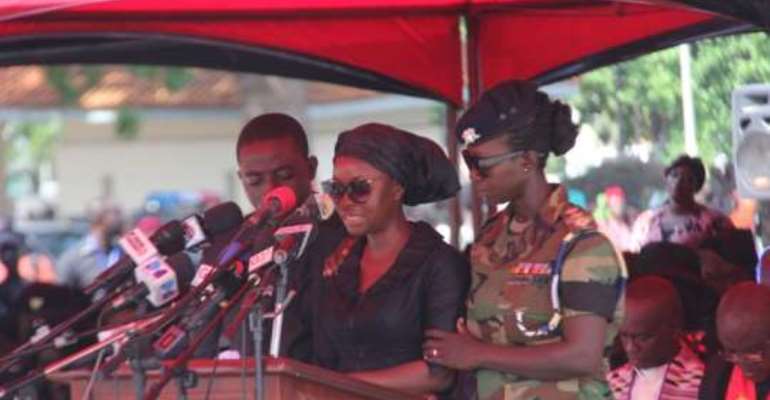 Accra, June 09, GNA - Mrs Barbara Mahama, the wife of the late Major Maxwell Adam Mahama, in a tribute to her husband described him as 'a great husband whose memory would never die.'
Mrs Mahama also described her husband as her 'gisting partner, advisor, teacher and mentor.'
She recounted the great moments she shared with him, saying, 'He is a great father, a great friend and a great son to your parents".
Mrs Mahama courageously read the tribute at the State Memorial Service, held at the Forecourt of the State House, to precede the burial of the Fallen Hero.
She recounted: "I remember you sacrificing so much for me to do my Masters.
"I told you I appreciated that move very much but you said it was because you wanted me to be in good standing to cater for the children when you are no more."
Mrs Mahama said she had, however, taken inspiration from the fact that her late husband was God fearing and dedicated his life serving his Creator.
"I wanted you to love and serve God wholeheartedly because that's what we are on earth for," she explained.
"It was as if I knew you would go soon because I always told you to read the Bible, pray, have a clean heart and forgive."
Major Maxwell Adam Mahama was the Commanding Officer of the Fifth Infantry Battalion, until his gruesome murder.
He was commissioned into the Ghana Armed Forces on 7th September 2007 and served in several United Nations Missions in Liberia and Cote d'lvoire.
Major Mahama undertook various courses, including the Regimental Signal Officers Course; and the Young Officers' Course.
He holds a Bachelor's Degree in Political Science and History from the University of Ghana.
He was pursuing a Master's Degree at the Leicester University and due to graduate in July.
He hailed from Tumu in the Upper West Region.
Major Mahama was lynched by a mob at Denkyira - Obuasi in the Upper Denkyira, on May 29.
He was allegedly mistaken for an armed robber. GNA
By Godwill Arthur- Mensah, GNA