Sulu Investment Limited supports funeral of late Major Mahama
News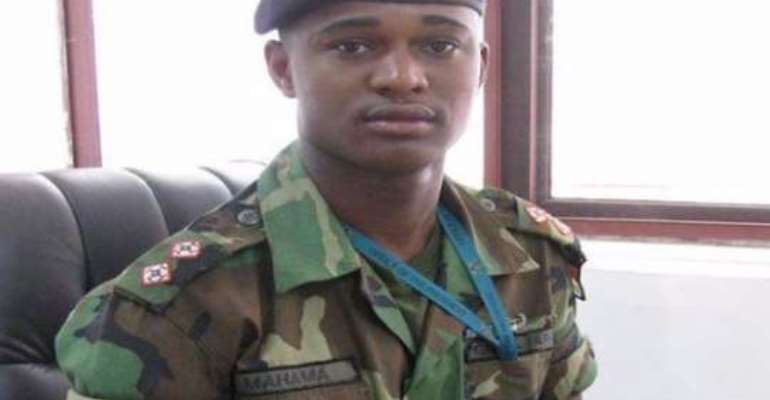 Accra, June 8, GNA - Sulu Investments Limited, Producers of Nero Natural Mineral Water has presented assorted water to the Ministry of Defence in support of the funeral of the late Major Maxwell Adam Mahama in Accra.
The late Major Mahama, who was killed in the line of duty, would be given a state burial with full military honours on Friday.
The assorted water comprised of 500 sachet water and 500 shrink bottled water.
Mr Dominic Nitiwul, Minister for Defence, receiving the items expressed gratitude to the management of the Company for the support.
He described the fallen hero as a young man, who was serving his motherland in line of duty, adding that the late Major was the third commander to be detached to the areas. Who only stayed in the town for 20 days before his death.
'The nature of his death is unacceptable,' he added.
The Minister said the late Major Mahama was posted to the area on May 9, 2017 and was killed on May 29.
He said government, through the Ministry has commenced the legal processes for the establishment of the Fund, which was mentioned by the President and appealed to benevolent institutions to support the Fund.
He said government was determined to fight and stop the activities of illegal mining in the country and they would continue to intensify the enforcement measures
Mr Ram Randvan, the Managing Director, Sulu Investments Limited told the Ghana News Agency that the support was part of their corporate social responsibility.
He said when management read and saw pictures of the late Major, they were shock and surprised and decided to support in that regard.
'We will contribute to the fund once the legal structures are done to take care of the children's education,' he added.
The burial service of the late Major comes off at the Forecourt of State House in Accra, on Friday, 09, 2017, after which he will be buried at the Osu Military Cemetery.
According to a statement issued from the office of the Director of State Protocol, Nana Enoch Osei Mensah, Chairman of the Planning Committee said a vigil would be held at the Arakan Officers' Mess at Burma Camp on Thursday, June 8, at 7p.m.
It said on Friday, June 9, the body of the deceased would be moved from the 37 Military Hospital to the Forecourt of State House at 6a.m for filing past.
The Burial Service will commence at 9.10 am after which there will be a procession to the Osu Military Cemetery for interment.
Immediately after the burial, the final funeral rites will come off at the Forecourt of the State House.
The Captain who was posthumously promoted to a Major on Monday was killed on May 29, after some residents of Denkyira Obuasi claimed they mistook him for an armed robber.
He had a weapon on him, which incensed the residents to lynch him, it has been reported.
He left behind a wife and two children.
GNA
By Morkporkpor Anku, GNA