Gov't To Sponsor Major Mahama's Kids
News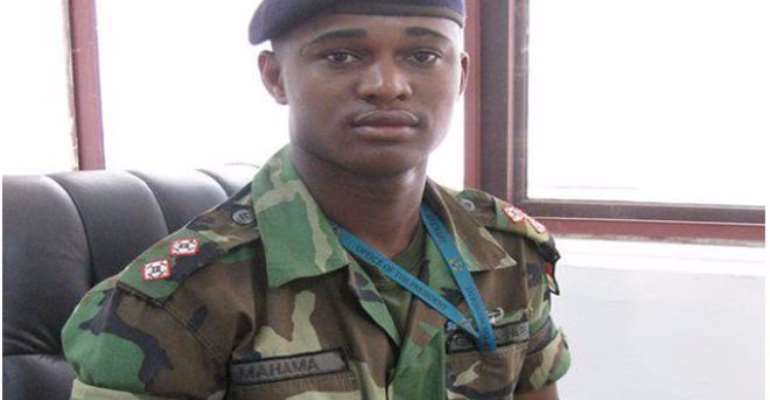 Government will cater for the educational and financial needs of children of Major Maxwell Adam Mahama, the army officer, who was lynched at Denkyira–Obuasi while jogging on Monday, May 29, 2017.
The Minister of Defence, Dominic Nitiwul disclosed that the children of Major Mahama would be adopted by the government to ensure that they are financially stable.
He made this disclosure when he paid a visit to the residence of the slain army officer at Burma Camp to sympathize with the bereaved family on Friday, June 2, 2017.
Mr. Nitiwul reiterated government's commitment to prosecuting the perpetrators of the heinous crime.
Commending the men and women of the Ghana Armed Forces (GAF) for exhibiting professionalism, the Defence Minister urged them to continue to exercise restraint.
Forty-three suspects, including six women, have been apprehended for the various roles they played in the murder of the late Army soldier, who was then the commander of a military detachment station at Diaso that is tackling illegal mining in the area.
Forty-one of the suspects, who have been provisionally charged for murder, have been remanded into police custody.
Mr. Nitiwul announced that his outfit would support the police to employ the latest technology to investigate and pursue the rest of the perpetrators.
He donated a cash amount of GHC10,000.00 to the family and pledged government's support before, during and after the funeral, which comes off on Friday, June 9, 2017 at the State House.
Also present were the Deputy Defence Minister, Major (rtd) Derrick Oduro, Chief of Defence Staff, Lieutenant General Obed Boamah Akwa and other senior military officers.
The family thanked the Defence Minister and the government for the endless show of support and urged Ghanaians not to politicize the death of their son.
In a related development, the Central Regional Minister, Kwamena Duncan, has expressed condolence to the family of the late Major Maxwell Adam Mahama on behalf of his region during the one-week celebration at his residence in Burma Camp on Monday, 5 June 2017.
He added that the death of Major Mahama was a great loss to the country and made a passionate appeal to the bereaved family to forgive him and his region for the unfortunate incident.
"We prostrate before this family and beg for their forgiveness," he noted.
The Minister and his entourage gave an undisclosed amount of money to the family.
Zachariah Sakara, family spokesperson, said the consolation they had received from the entire country had gone a long way in keeping them in shape.
He further stated that no amount of bloodshed would bring back their lost son and that justice should be done appropriately.
Women's delegation from the National Democratic Congress (NDC), led by the former Minister of Foreign Affairs, Hannah Tetteh, also expressed their condolence to the family and donated cartons of bottled water to support the family.
( [email protected] )
By Linda Tenyah-Ayettey