News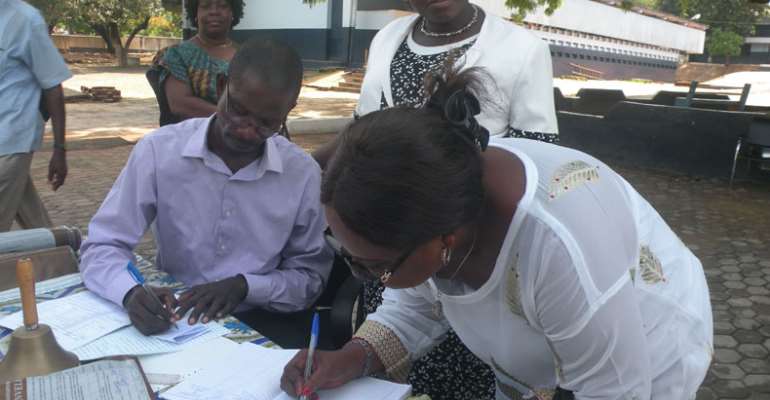 The Municipal Director of Education for La Dadekotopon, Bernice Aduo Addae has disclosed that 3226 candidates are writing the Basic Education Certificate Examination (BECE) which began early this week.
The Municipal Director made the disclosure when she conducted the Municipal Chief Executive (MCE), Gladys Tsotso Mann-Dedey round the eleven BECE Examination Centres in the Municipality on Tuesday.
According to her, the candidates were taken through a number of pre-examination sensitization programmes to prepare them adequately for the BECE.
She said resource persons from the West African Examination Council (WAEC) also visited selected schools to provide further orientation on the nature of the examination.
At the Garrison Primary and Junior High School Centre which comprised schools from Base Workshop, Gonda Barracks and 1st Signal, the MCE called on the candidates to eschew malpractices which will lead to their expulsion from the examinations.
"I am happy that you are all fit for the exam and my plea to you is to consolidate all the gains you have made through your studies and revision; let it reflect in whatever you write so that you can make the required grades to be part of government's free Senior High School (SHS) which begins with you this September," she stated.
Alhaji Camel Ligbi, Headteacher of La Wireless "5" JHS also conducted the MCE and his entourage to inspect some dysfunctional sanitary facilities which required urgent attention and repairs.
On the sidelines of the tour, the MCE, Gladys Tsotsoo Mann-Dedey interacted with beneficiaries of the Government's Livelihood Empowerment Against Poverty (LEAP)
The beneficiaries appealed for an increment in their allowances. The MCE, however, urged them to hold on to what is at stake as she consults with the personnel in charge of the programme in the municipality.
According to the Municipal Technical Officer in charge of the LEAP Project, Agartha Afi Klevor Gator, the programme involves providing medical services which include health screening and consultation and dietary advice to the beneficiaries.
By Solomon Ofori