Prof Bondzi-Simpson Assumes Responsibly As Rector of GIMPA
News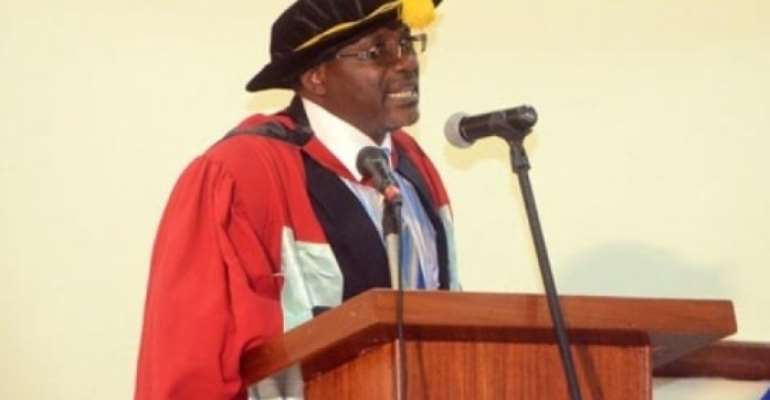 Prof Philip Ebow Bondzi –Simpson, has assumed responsibly as the Rector of the Ghana Institute of Management and Public Administration (GIMPA).
Prof Bondzi-Simpson, who is an educationalist and a consultant with several decades of experience to his credit, was, until his confirmation was the Acting Rector of GIMPA.
He was the Founding Dean of the Faculty of Law and Dean of the School of Business at the University of Cape Coast. He was the Director of Legal Services and Investigations at the Commission on Human Rights and Administrative Justice (CHRAJ) and a Senior Lecturer at the Ghana School of Law.
He has also been heavily involved in teaching and in promoting higher education in institutions such as Kofi Annan International Peacekeeping Center, Ghana Institute of Management and Public Administration, Ghana Police College, North Carolina Central University School of Law, and Central University College, Ghana.
Prof. Bondzi-Simpson is a member of the Ghana Bar Association, where he has served as the chairman of its Committee on continuing Legal Education and Professional Development, member of the University Teachers Association of Ghana, member of the International Association of Law Schools' Deans Forum and the Convener on the Conference of Law Deans (Ghana).
He has specialised training in the areas of Human Rights and Humanitarian Law, Governance of Higher Education Institutions, Project Management, Senior Academic Leadership Training, Management of Higher Education Institutions, International Law and Relations, Securities Selling and Investment Advice and Public International Law.
He holds a Post graduate diploma in Education from the University of Cape Coast, Ghana; an S.J.D. in Corporate Law from the University of Toronto, Canada; an LLM in Human Rights from the University of Saskatchewan; a Qualifying Certificate for Enrolment as Barrister and Solicitor from the Ghana School of Law; and an LLB degree from the University of Ghana.
The unveiling of Prof Bondzi-Simpson was done by the Chairman of the Governing Council of GIMPA, Mr. Kofi Darko Asante at the inauguration of the Special Master programme in International Relations and Diplomacy in Accra on Tuesday.
He congratulated Prof Bondzi-Simpson for his new appointment as the Rector of GIMPA.
Mr. Darko Asante said the course is design to help students to learn in other to come out to solve problems in governance.
Present were Former President John Agyekum Kufour, Executive Chairman of the State Enterprise Commission (SEC), Mr. Stephen Asamoah Boateng and a Former Deputy Minister of Information, Mr. Frank Agyekum among others.