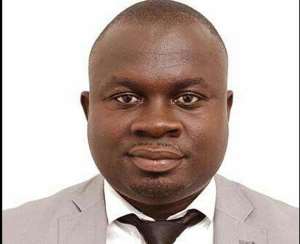 Albert Kwabena Dwumfour
Albert Kwabena Dwumfour, who is aspiring to become the Organizing Secretary of the Ghana Journalists Association (GJA), has called for truce among various aspirants to end the election uncertainties.
According to him, in order to surmount the challenges and move the GJA forward, all stakeholders and interested parties should come together and deliberate to find an amicable solution to the ongoing tussle.
In a statement, Mr Dwumfour, a media consultant cum businessman said, "I am morally convinced that the best way to resolve this election impasse, and to broker peace among all affected parties, is to as, a matter of urgency, call for a stakeholders meeting, which I have already alluded to, and which should comprise all affected parties – aspirants, seasoned and senior journalists, Council of Elders and the two main committees (Adjudication and Election committees), which have a direct influence on this year's GJA elections."
He argued that a successful stakeholders' meeting could address issues bordering on some key members and stakeholders of the association, adding that this would neutralise emotions, sentiments, calm tensions and broker peace.
"Above all, such a gathering could also resolve the issue of the voters/electoral register that could trigger another setback in the near future, or could also be a major setback in this year's long-awaiting election," he added.
The GJA has been embroiled in internal conflicts following misunderstandings over the election of its executives.
"To surmount the turmoil and move our beloved association forward, all stakeholders/interested parties should come together and deliberate to find an amicable solution to the ongoing tussle.
"My proposition is based on the preponderance of calls from seasoned and senior journalists and some interested parties, who are also calling for a truce," he said.
According to him, matters arising out of this year's elections are, no doubt, denting, explaining that the image of the association is very paramount.
"As an aspirant for an executive position, I cannot sit down unconcerned for the issues to get out of control and sink our association into oblivion.  I have the duty to safeguard the hard-earned integrity of the association, which represents the fourth estate of the realm.
"My position should, however, not be misconstrued to mean that I am treading on this path because I am a contestant.
"It should rather be seen in the context of a stakeholder who sees the interest of the association as paramount to all journalists (both registered and unregistered members) in the country," the statement said.
Mr Dwumfour called for consensus building in resolving all grey areas ahead of the election in order to bring finality to every single issue of concern.
"I would like to use this opportunity to call on all stakeholders and members of our great association, as well as my colleague aspirants, to come together in unity, amity and progress to find amicable settlement to our grievances, and redeem the image of our mother union," he said.