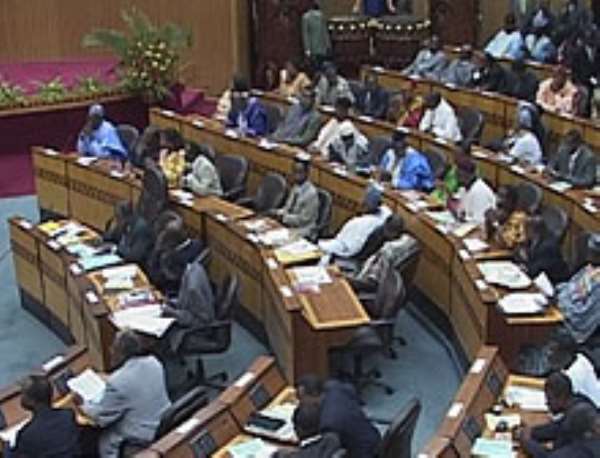 Accra, May 10,GNA - The Fourth Parliament of the Fourth Republic of Ghana began its second meeting on Tuesday and it is expected to travel into late July.
The meeting is the second in the first session.
The relatively heavy presence of new entrants following the increase in the number of members from 200 to 230 had a further boost with the swearing in of Alhaji Muntaka Mohammed Mubarak the new (NDC) Member for Asawase.
He won the vacant seat in the much-publicised election that was fought with jaws and fists.
The Asawase polls results had buoyed the ego of the Minority National Democratic Congress (NDC) and deflated that of the New Patriotic Party (NPP), the ruling party.
Now that the equation of numbers stays the same in the House, business is expected to be smooth but of course occasional disagreements are anticipated.
The Majority would continue to have its way while the Minority has its say.
Walkouts and boycotts cannot be ruled out although the Minority has pledged its commitment to the smooth running of the House. Twelve bills have been billed to engage the attention of the House.
The most crucial of these bills is the Domestic Violence Bill that has created anxieties and dissent even within the feminist and gender movements.
The Bill may focus on all aspects of violence in the home but what has made it a gem of a topic for public discussion is what has been perceived as an attempt to introduce martial rape into the nation's statute books.
The former Minister of Women and Children Affairs, Mrs Gladys Asamah attracted the wrath of women groups for" delaying" the laying of the Bill in the House.
Mrs Asmah defended her stand on the issue stressing the need to "allowing almost every constituency within Ghana to appreciate a Bill, which will dictate some of the ethics in the bedroom". The Whistleblower Bill, Human Trafficking, Value Added, Minerals and Mining and the Insolvency bills and others would fill the menu of the House.
Three Instruments are to be laid in the House. They are the West African Gas Pipeline Regulation, Fines and Penalty Unit Instrument and Labour Regulations.
Seven papers including the proposed formula for the distribution of the Ghana Education Trust Fund (GETfund) for the year 2005 and the annual progress report for 2003 on the implementation of the Ghana Poverty Reduction Strategy would be laid.
Ministers would answer 56 questions from members in addition to eight urgent ones during the period.