21 April 2017
|
General News
I Don't Support Galamsey – Okyenhene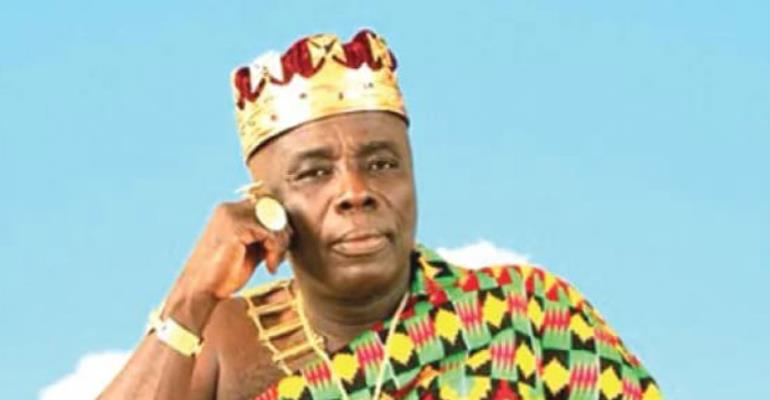 THE OKYENHENE, Osagyefuo Amoatia Ofori Panin, has dismissed claims that galamsey operators are digging under his palace at Kyebi in the East Akim municipality of the Eastern Region.
He has been criticized severally for looking on unconcerned as illegal miners destroy water bodies and lands in the Akyem Abuakwa state.
The Okyenhene has also been accused of engaging in galamsey (illegal mining) but the Akyem Abuakwa overlord in an interview, rubbished allegations that he condones galamsey and is involved in it.
"People are saying the palace is being dug; go round it and see. If I wanted to do mining, I would take my land, I don't have to ask anybody, go to the Minerals Commission and secure proper licence to do proper mining.
"Why would I turn around and steal my land to engage in such dirt?" he questioned, adding, "I don't support galamsey."
To ascertain the veracity or otherwise of the allegations, media practitioners took a walk around the palace.
One side of the palace is a walkway and also shares a wall with other residents, which makes it impossible for galamsey activities to be undertaken there without the residents noticing.
The other side faces the main street that leads to the Kyebi funeral grounds as well as the Ghana Water Company pump station. The southern wing of the palace, which has the back gate, faces the Doctor J. B. Danquah Street.
Osagyefuo Amoatia Ofori Panin, who expressed optimism that the recent fight against illegal mining would be successful, stressed the need to preserve the environment for future generations.
"Yes, there may be some chiefs clandestinely doing this [galamsey], but I can tell you, I'm not holding brief for them; most of what goes on is beyond the chief's power," he said.
The Okyenhene explained that they [the chiefs] are only custodians of the land, but "what is underneath the land does not belong to chiefs." According to the traditional ruler, "Most of what you hear is not chiefs granting lands; its individual farmers who are approached by these galamseyers to buy their land and then they proceed to inform the chiefs that 'the Minerals Commission has issued me a licence to come and do this and so these persons have granted me the land' and so they give the chief what we call drink money."
Osagyefo, who is the President of the Eastern Regional House of Chiefs, advised chiefs and politicians who are in the galamsey business to the extent of conniving with foreign nationals, to desist from the practice so as to preserve the environment.
BY Daniel Bampoe