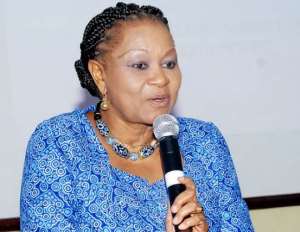 By Christabel Addo/ Deborah Apetorgbor, GNA
Accra, April 5, GNA - Compassion International Ghana, a child development organisation, on Wednesday dedicated its new office complex located within the Seed House at Madina near the Atomic-Madina interchange.
The organisation now occupies the first two floors of the Seed House building.
Reverend Dr Joyce Aryee, who is the Chairperson of the Advisory Council of Compassion International Ghana, cut the tape to officially commit the office for operations, and praised God for the growth of the organisation.
She said although the Organisation had over the years been working tirelessly to reach all vulnerable children, especially those living in deprived communities, the task had been very challenging.
She expressed the hope that with its current spacious offices, 'the Lord will reveal the harvest more and more to us', to be able to expand the support required by these needy children to help release them from poverty and make their lives better.'
Mr Padmore Baffour Agyapong, the Country Director of Compassion International Ghana, said the organisation currently provided life-changing benefits for 73,339 children, most of whom were housed in centre-based facilities for their sociological, educational and cognitive development, and also ensured income generating abilities for the care givers for their empowerment against poverty.
The Organisation currently has 287 church partners in seven regions of the country, and hope to expand strategically to the three regions of the North to affect more lives.
He however raised concern about the current difficulties confronting the organization with respect to the payment of school fees, saying about 3,357 of its beneficiaries were currently due to enter the Senior High School (SHS).
'We therefore welcome the free SHS policy of government as good news for the Compassion's agenda and goal'.
Mr Agyapong said 'we have 87 of our beneficiaries in the public Universities', thus the government's recent budget announcement to give incentives to companies who would employ fresh graduates without any work experience, was a great sign of hope.
He said with an operational budget of 33,000 Ghana cedis and a thousand children at its inception in 2005, the organisation had grown its working capital to 88 million Ghana cedis with over 73,000 beneficiaries, and estimates over a hundred million cedis in 2017.
He said the organisation dealt more with inner cities and Zongo communities where poverty was more prominent, and intended to focus more on resilience rather than responses to disasters in these areas.
He said apart from the educational support for their beneficiaries, Compassion also provided access to potable water, quality health care as well as infrastructure such as computer and science laboratories to these deprived communities.
He thanked all their partners, including faith-based orgainsations, the Domestic Violence and Victim Support Unit (DOVVSU) of the Ghana Police Service as well as traditional leaders for their immense contributions over the years to the equitable development of children in Ghana.
GNA