We Want To Build A Ghana Beyond Aid -Nana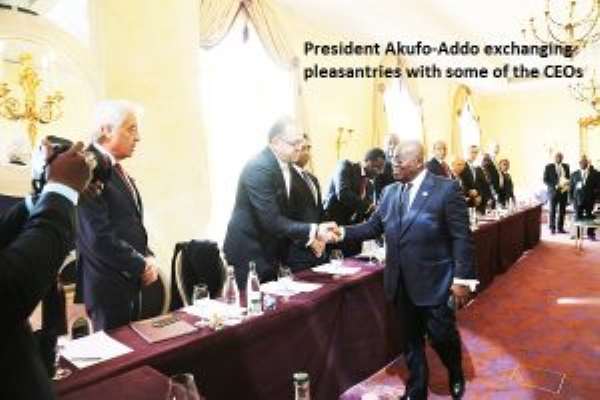 "We want to build a Ghana beyond aid; a Ghana which looks to the use of its own resources. We want to build an economy that is not dependent on charity and handouts, but an economy that will look at the proper management of its resources, as the way to engineer social and economic growth in our country."
There were the words of the President of the Republic, Nana Addo Dankwa Akufo-Addo, when he held a roundtable meeting with some selected chief executive officers of leading African and international companies, on the sidelines of the ongoing 5th edition of the Africa CEO Forum, on Monday, March 20, 2017.
Accompanied by the Chief Executive Officer of the Ghana Investment Promotion Centre (GIPC), Mr Yoofi Grant, the President noted that the sentiment of the party, out of which his government is borne, "is instinctively to look for private sector solutions to the economic issues in our country. We are unashamedly the party of the private sector."
He noted that, in recent years, the private sector has suffered major deficits, such as poor access to credit, high interest rates, erratic power supply, and a business climate that has not been conducive.
It is in this view, he noted, that on the 7th of December 2016, the Ghanaian people voted for a change in direction, and tasked him to rectify the situation and improve on their conditions of living.
"We have started doing something about it. Our first budget outlines some fairly radical, new measures. A lot of the taxes that were brought up, in the period where our deficit was growing, have either been reduced or abolished.
"We have taken off as much as GH¢1 billion in taxes out of the revenue net for the doing of business in Ghana, with the commitment of doing more," he said.
In addition to this, President Akufo-Addo reiterated the commitment of his government to reducing the fiscal deficit from 9% to 6% this year, with further reductions next year.
Additionally, "we have decided that it is important to provide stimulus to the tune of US$100 million to local industry that are in distressed states, and to assist new companies to grow in the country."
The revival and modernisation of Ghana's agriculture, he told the CEOs, is also a major plank of his administration's agenda of creating and providing jobs for the people. The sector, he noted, is one area the government is looking at bringing in investment.
With 1% of the country's revenues dedicated to agriculture in the erstwhile Mahama administration, President Akufo-Addo indicated that his commitment is, at least, to match the 4% of revenues allocated to the sector by the Kufuor-led NPP government.
"If the country is to make any meaningful change in the lives of the people, our efforts must be directed at this sector. The majority of people can only feel a change in their lives when we develop agriculture," he added
He assured the CEOs gathered that Ghana is open for business, stressing that the creation of a conducive business environment will ensure that their businesses flourish, thereby creating prosperity for the Ghanaian people.