10 January 2017
|
General News
Farmer Beheads Lover For Rituals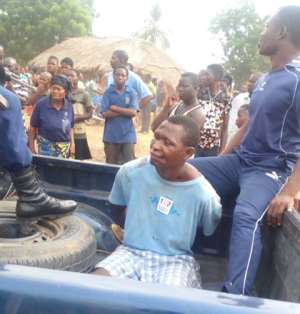 A 45-year-old farmer, Kingsley Adoa Kissi, has been arrested by the Ada-Foah District Police Headquarters for allegedly killing his lover for a ritual purpose at Bedeku-Kpornya, a suburb of Kasseh in the Ada East District of the Greater Accra Region.
The deceased, Sarah Korkor Mormorbi Wormenor, 38, was found with multiple sharp object wounds on her body, while her head, vagina and other parts of her body were missing as she lay naked in a nearby bush.
Her lifeless body has since been deposited at the Police Hospital morgue for autopsy, while police continue with investigations to unravel the circumstances under which the unemployed woman was murdered.
Sources said Sarah was attacked somewhere by her assailant, killed and parts of her body removed before brought to the bush which is about 100 metres away from her house.
The body was lying at a place that shows no sign of where she was killed, deepening suspicion that she might have been killed elsewhere.
Some residents of the area nearly meted out instant justice to the suspect, but he was rescued by George Ahuahey, an assembly member for Bedeku Electoral Area.
He mentioned that when a search was conducted in the suspect's room, no exhibit was found.
Nana Wormenor I, queen mother of Bedeku-Kpornya, told the DAILY GUIDE that the suspect on Sunday night at about 10:00pm came to call the deceased and went out with her but could not return.
According to her, "We were sleeping in a room when Korkor and his brother decided to come out to sleep because the room was hot for them. About 30 minutes later, Kingsley came to call her and they went out but she didn't return again.
"The next morning, we decided to look for her and a search party was done in the areas and the lifeless body of Korkor was found in the bush," she narrated.
Meanwhile, some residents are yet to come to terms with the incident.
Assistant Superintendent of Police (ASP) Juliana Obeng who confirmed the incident to DAILY GUIDE hinted that they were doing everything possible to get to the bottom of the crime.
She said the suspect is in custody assisting with investigations, adding efforts were under to locate the missing head, vagina other parts of the deceased person.
According to her, the suspect has denied knowledge of the offence on several occasions during police interrogations.
She said preliminary investigations by police revealed that family members of the deceased at about 6:00 am on January 9, 2017 noticed their deceased had not returned home the previous night with her boyfriend.
They headed straight to the residence of suspect which is about 300 metres away from the victim's house to ascertain why she had not returned home, only to be told by the suspect that they met and had a nice time on Sunday, January 8, 2017 at about 10:00pm after which they headed home individually.
She added, however, that about an hour later, the town folks found the headless body of the deceased close to where she lived.
ASP Obeng added that the police got information and quickly rushed to the scene of the crime and found the headless body and the knife supposed to have been used to commit that dastardly act.
FROM Vincent Kubi, Kasseh

Contracts awarded to the sister-in-law has raised questions of conflict of interest.
Advertized