Let's Support Akuffo-addo To Rebuild Ghana - Anane-gyinde Urges Ghanaians In Diaspora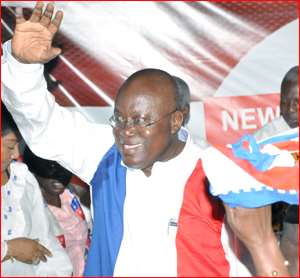 The National Organiser of the Germany Branch of the New Patriotic Party (NPP) Mr Kwaku Anane-Gyinde has made a passionate appeal to Ghanaians living abroad to rally behind the President-elect Nana Akuffo-Addo to rebuild Ghana and resuscitate the economy which has been in decline for the past eight years.
He noted that Ghanaians in diaspora can play a critical role in this rebuilding effort by virtue of their international exposure, the skills they have acquired, their expertise and the financial resources they bring on board.
Addressing a large section of Ghanaians at a "Victory Party" organised by the Aachen Chapter of NPP over the weekend, Mr Anane-Gyinde said although foreign investments and assistance are welcome, the real task of building Ghana remains the duty and responsibility of Ghanaians themselves adding "outsiders can only assist but we Ghanaians must be the architects of our own destiny".
He reminded Ghanaians living abroad the good roads, medical systems, educational opportunities and other social services they enjoy in their countries of residence have all been made possible through the hard work and dedication of citizens of those countries and said Ghana can achieve similar level of development if every individual Ghanaian does his/her bit in whatever role he/she finds him/herself.
Mr Anane-Gyinde explained that the in-coming NPP Administration is determined to support, encourage and empower Ghanaian entrepreneurs to take control of the commanding heights of the economy by creating a business-friendly environment that would enable Ghanaian businesses to thrive.
According to him the One-District, One- Factory policy is an area where Ghanaian investors can partner with government to set up factories that would provide jobs for the growing number of unemployed youth in the country.
He assured Ghanaians that the President-elect, Nana Akuffo-Addo would restore dignity and honour to the Presidency through honest and transparent leadership saying "Akuffo-Addo will never let you down, he is a man of integrity who means what he says and says what he means."
Earlier in his opening remarks, the Chairman of NPP- Aachen, Mr Frank Aseidu thanked NPP Supporters and sympathisers in Aachen for their moral and financial supporter and urged them to continue to stand by the NPP as it takes over the reins of government.
Mr Aseidu stressed that the purpose of the event is not only to celebrate the emphatic victory of the NPP in the 7 December elections but to also embark on a membership drive campaign.
At the end of the event, 22 people had registered to join the New Patriotic Party in Aachen.
The Communication Team
NPP-Germany