Salary Validation Cost: A Further Curse On The Teacher's Pocket?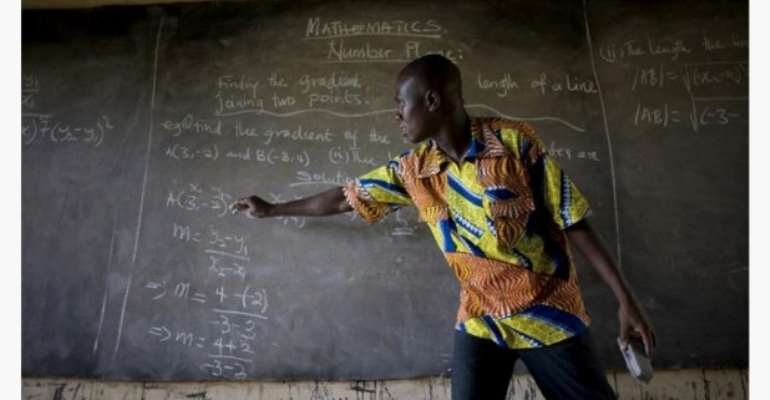 'The opposite of love is not hatred, it is indifference", so the saying goes. Experience and our grey-haired men should constantly remind us that, a nation that decides to play the proverbial rope which proudly perched around the creeping plant and paid deaf ear to the deafening noise of the recalcitrant bird, despite several complaints from a worried tortoise, will eventually find its sorry self in the hunter's quiver one hot Saturday afternoon.
Barely two weeks ago, I was on some major online news portals to lament heavily on how the Ghana Education Service is sporting with the education and future of our basic school children by overburdening them with a literary book and further punishing teachers with incessant and time-wasting workshops on it.
In the said article, I mentioned the book and sought to prod the 'ears' of the Ghana Education Service to wake up to its promise of making sure questions on the book are featured in the English Language paper one of this and subsequent year's Basic Education Certificate Examination.
It's not for nothing that I should be disturbing your peace with yet another 'noise' bordering on our education. As usual, I will pour my thoughts here and only hope the institutions that matter move in swiftly to salvage the situation before it grows into a backyard ghost to haunt and stagnate our progress.
In its frantic efforts to rid government's payroll of the numerous unscrupulous, recalcitrant and nation-wrecking ghosts that have diabolically survived on the public purse for ages, the Controller and Accountant General's Department has put in place a number of stringent measures, one of which is salary validation. This mechanism does not only intend to send some ghosts back into their sorry graves, it also aims at reducing absenteeism in our public institutions to its barest minimum.
The entire essence of this salary validation system, as sent to me by one of the heavily-embittered teachers, reads, "The Electronic Salary Payment Voucher is to improve the delivery of financial management services of the government and the general public. The E-SPV system provides for electronic reconciliation and verification of the information on the nominal roll of management units. That's, head of payroll management units would with a click of the button validate and return the salary voucher electronically."
To make it simple for assimilation, heads of payroll management units (and in the case of schools, headteachers and circuit supervisors) are required to verify their teachers monthly, by way of filling an Accountant General-provided form online, detailing the number of days a teacher reports to work for the month. Any teacher whose verification does not go through, for one reason or the other, before the validation deadline concludes will have to cook a bitter story he himself cannot taste, for the sip of his wife and children, if any. A teacher who is also not verified for two successive months or more, I understand, is automatically declared a ghost and will subsequently be flushed out of Controller and Accountant General's payroll.
It's however sad to learn that just a few months into the implementation of this national coffers-saving intervention, some headteachers and circuit supervisors who feel their belly-needs are more pressing than the collective well-being of Ama Ghana are already working tirelessly at nipping the system in the bud. In some schools, teachers are made to pay five Ghana cedis or more to head teachers in the name of buying airtime to verify them. And when the headteacher has taken this 'data dime' and he is done with his part of the assignment, the circuit supervisor who is supposed to do the final verification will also claim he has no laptop to finish the process and this will thus open a new chapter of the struggle.
To save any unwarranted delays and the damaging blow any such filibuster may deal their pockets, these same teachers, whose salaries are already under intense pressure, in their bid to leave their banking halls with smiling envelops and escape the frowns and wraths of their families and creditors, will have to reach their pockets once again and make another contribution to buy a laptop for a circuit supervisor.
It's just unfathomable how the Controller and Accountant General's Department has been able to come up with such a brilliant idea but cannot collaborate with government to get these supervisors some laptops and save our teachers the hustle and bustle of having to make a double contribution before their salaries arrive safely in their pockets. While we applaud the Accountant General for coming to the rescue of the public purse with such a wonderful initiative, we plead with him to do everything within his means to ensure that the system works without giving any person or group of persons any cause to whimper and whisper about it.
You see, our refusal to take some of these issues up, especially those pertaining to our education, and do justice to them is a regrettable reflection of how playful and unserious we are as people and this, perhaps, necessitates a revisit to the old days of 'Ka na wu' (say and die), a bold and fearless spirit of saying things as they are, albeit minus insults, and damning the dreadful consequences. Unfortunately, this spirit has been thrown to the dogs and replaced with pathetic partisan politics of insults everywhere. It's a pity how we all seem to be growing into one funny generation of people who bask in the ecstasies and fallacies of pettiness and trivialities at the expense of staidness and celerity.
If the old days of 'ka na wu' still existed, perhaps, our politicians wouldn't have to wait till a few months to elections before they get problems fixed or embark on petty developmental projects to win our applauses. If the old days of 'ka na wu' still existed, perhaps, state and public institutions wouldn't be transformed into 'jobs for the boys', with sheer disregard for competence. Perhaps, if the old days of 'ka na wu' still existed, our chiefs would not take part in partisan politics by declaring support for specific presidential candidates and go about flapping their feathers in their palaces. And perhaps, if the old days of 'ka na wu' still existed, we would all come to appreciate the uncomfortable truth that our duty to do that which is right and productive does not rest on the shoulders of government, and that, we owe our conscience a moral obligation to protect and lift high the flag of Ghana at all times.
May we be bold and fearless in our quest for excellence.
Jet Alan.