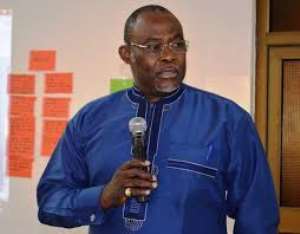 By Afedzi Abdullah, GNA
Cape Coast, Sept. 16, GNA - Dr Ekwow Spio - Garbrah, the Minister of Trade and Industry, has admonished Old Student Associations to channel their support towards improving the content and quality of the education at their respective schools.
'Creating funds to support educational infrastructure is good but one of the most important aspects of education that needs much attention is the body of knowledge,' he said.
Dr Spio-Garbrah gave the advice at a youth colloquium in Cape Coast on the theme: 'Falling Standards of Education in the Cape Coast Metropolis, the stakeholders' responsibility'.
The colloquium, which was organised by the Cape Coast Youth Association, in collaboration with the National Youth Authority, was aimed at bringing stakeholders together to deliberate and find solutions to the falling standards of education in the Cape Coast Metropolis.
He acknowledged the immense contributions of old students in the area of infrastructural development in their respective schools, but said the focus should be shifted towards deepening the curriculum content.
He said it was about time Ghana made a paradigm shift from the content of the educational system to focus on production and manufacturing.
Dr Spio-Garbrah is an old student of the Achimota School and a Former Minister of Education.
Professor Nyarko Simpson, a Senior lecturer at the University of Cape Coast (UCC), said the provision of a sustainable education could only be achieved if stakeholders played their respective roles effectively and efficiently.
He urged parents to endeavor to sustain their children in school with their little incomes.
He entreated parents to educate their wards with purpose and provide all their necessary needs to enable them to stay in school.
Prof Simpson urged the Ghana Education Service (GES) to intensify its supervision in public schools, particularly, at the basic school level to improve the academic performance of pupils.
He advised parents not to shirk their responsibilities towards their children, adding that the process of teaching and learning should be a shared responsibility for the desired results to be achieved.
Mr Robert Awonor Williams, the Head of Human Resource Development at the Cape Coast Metropolitan Directorate of GES, expressed worry that some parents in the Metropolis found private basic schools more enticing than public schools.
As a result, he said, enrolment figures at the kindergarten level had reduced and warned of a drastic reduction in enrolment at that level in future if measures were not put in place to address the underlining factors.
He urged parents and other stakeholders to take profound interest in the education of children in both private and public schools to bring back the glory of the Metropolis as the citadel of education in Ghana.
Mr Williams said the Metropolis had since 2012 consistently recorded poor results at Basic Education Certificate Examination (BECE) level but was hopeful this year would see a significant improvement in performance.
GNA