Lack of magistrate brings judicial work to standstill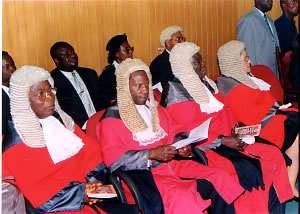 Begoro, Feb. 11, GNA - The Begoro court, as well as, the judicial staff there have been idle for the past eight months due to the absence of a magistrate, the Ghana News Agency (GNA) learnt on Thursday. The situation had arisen since Mr Paul Affum, the only magistrate serving the area, retired in July last year, Mr Fred Odefuor Kakraba, Registrar of the Court, told the GNA in an interview at Begoro. He said all efforts by his office, supported by the Begorohene, Osabarima Awuah Kotoko II, for a replacement had proved futile. "Presently our 14 Judicial staff, through no fault of theirs, only report to work and chat till the close of the day," Mr Kakraba said and appealed to the Judicial Service to post a magistrate to the area as soon as possible to serve the people.
In a related interview, the Fanteakwa district police command also told the GNA that the absence of court sittings at Begoro was impeding the enforcement of law and order in the area.