Accra Brewery rewards its distributors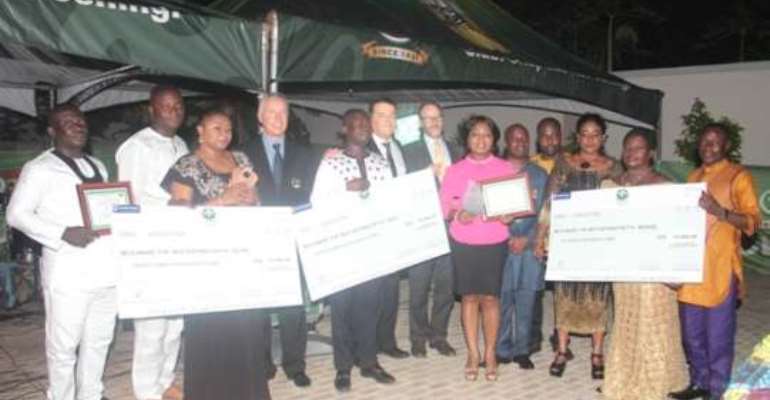 Accra, June 4, GNA - Ghana's premier beverage producer, Accra Brewery Limited (ABL), has rewarded its distributors at a dinner and awards evening in Takoradi.
A statement from the company said a number of distributors were rewarded with handsome cash prizes for their exceptional performance in 2015.
The winners were Emmanuel Brenya Enterprise (Gold winner), Ice Blue Ventures (Silver winner), Detela Company Limited (Bronze Winner) and Mackay & Company (Most Improved KD).
Detela Company Limited and Mackay & Company were also recognised as the two longest serving KDs.
Earlier at the Distributors' conference at which 35 key distributors were present, the Managing Director of ABL, Anthony Grendon, assured them that the company believes in empowering its partners to prosper.
'Our strong belief is that when you do well and your business grows, we all grow. We are looking at strong growth prospects linked to the significant investments we have made in the brewery, besides the $ 100million Everest Expansion Project from last year we are also finalizing Everest 2, which will bring further capacity and efficiency gains to our business,' he said.
'This expansion project is designed to ramp up ABL's production capacity for both beer and malt so as to meet the rising demand for these quality products.
'ABL's sales results continue to defy the economic forecasts with their exponential growth, he said, adding that 'we are all set to grow stronger together.'
ABL's Sales Director, Michiel Orlemeans said he was impressed with the output of the distributors, saying their performance had a huge impact on sales volumes and profit margins for the company.
'By your hard work, Club Premium Beer continues to dominate the clear beer market in Ghana. Beta Malt saw such a quantum leap in volumes and we are prepared fully to ensure that this amazing product and others in our stable are supplied regularly to you. We shall not compromise on quality and customer satisfaction.'
He said: 'As a forward looking business, we have built trust, our products are of the highest quality. We have invested in local organisations and we have an enviable approach to alcohol-related health issues.
'We will continue to stimulate employment through job creation, quality workforce, investing in small businesses and entrepreneurs while engaging in responsible consumption and marketing strategies.'
GNA