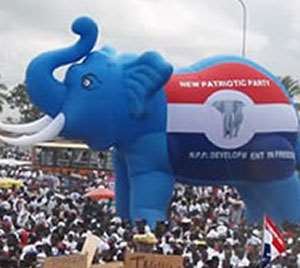 My pen had been silent not because there is nothing to write about but the events of the usual political cacophony rather push me to the corner of my room to meditate and philosophy about the political future of Ghana. The country that we are all proud of is gradually loosing its glorified reputation just for unnecessary political rivalry.
It is not uncommon to have discrepancies with respect to emerging national issues in any democratic dispensation but to the extend that it is full of fabrication, violent pronouncements and creation of unnecessary fear and panic is absolutely needless.
I have decided to direct my pen today to light the minds of some confused elements in the NPP who think Ghana is built on individuals.
We have reached a political harvest year and any meaningful political party would focus on issues to attract the citizenry particularly the floating voters who play a focal role to determining any electoral victory.
Ironically, the NPP which goes about claiming they can win the impending elections have rather invariably and indirectly thrown in the towel by their actions and inactions.
I hear, the NPP and its cohorts had a mammoth demonstration in the garden city, Kumasi, their strong hold. Of course, it would be mammoth because it was a great platform to display wealth and perhaps shake off some political burden and stress accrued from the seemingly unending political fragmentation in their backward.
What surprises me is what motivated them to bash the "kayaye"( head porters) into this "political festival". How come the monies promised them were not paid? Hahahaha.... NPP, your political strategy makes you a laughing stock across the globe.
Is the NPP aware at all that, their party is well represented at IPAC and is working with EC to implement the Supreme Court's recommendation of auditing the voter register to provide a credible register ahead of the November polls?
Are they ignorant of the issues or it is part of their usual cheap ways of winning public sympathy?
When will this NPP be very honest? Let me be emphatic that the EC is an independent institution and can only take decisions in the interest of the larger majority and not some few elitist class who are pursuing their shameful parochial interest.
It does appear that, the NPP is not interested in political power but rather working assiduously to draw back the progress the country has made so far.
We all have a duty to defend and protect our nation and not our party. Any quest to lead must be orientated by national patriotism and not party patriotism. Our institutions should be allowed to work. The NPP consistently and hypocritically attacked almost all our state institutions right from the security (BNI), BoG, NCA and many others.
No wonder they brought in their controversial South Africans mercenaries to do what they know best only to be caught red handed by our well equipped national security. What fascinated me is the attempted incoherent and inconsistent defense they mounted.
What business do they have then to seek for my mandate? To come and run a family government without these institutions or national government?
Ridiculously amazing.
The EC organises the NPP internal elections and they unquestionably accept the results because of the trust they have in it. It is not infantile therefore, to constantly say that the EC is doing the bidding of the NDC?
Well, Ghanaians are watching.
May be that is the political message of the NPP to add up to the "try me" message from my poor grandpa Nana Akuffo Addo.
The NPP also claim that, their standard bearer is becoming more and more popular and so they can win.
Hahahaha......
Why won't he become popular when he is in the center stage of political drama everyday by sacking almost all their national executives?
I agree that Nana is popular. However, he is, because of his uncharitable leadership. He will be the most popular in Ghana but the most unsuccessful. He is becoming a tragedic political hero in Ghana.
Recently, I see the NDC moving across the length and breath of this country preparing their grassroots ahead of campaign but the NPP run to; the radio stations to insult and tell lies, the street to demonstrate among others yet they claim they deserve to win political power. Are they jokers or ignorant of a political strategy?
This never happened during the time of Jake O Lamptey ( may his soul rest in peace)
Jake understood and knew how to execute his political strategy though sometimes through ugly means. The imposed Chairman Freddy Belay is simply confused and often take solace preaching his ignorance via media.
I advise the NPP to examine itself again. Socrates says " an unexamined life is not worth living".
As it stands now, the NPP cannot come near the NDC which has a solid and hardworking national leadership.
Conclusively, let me say that, if the NPP envisages that they are losers in the impending elections, they should s