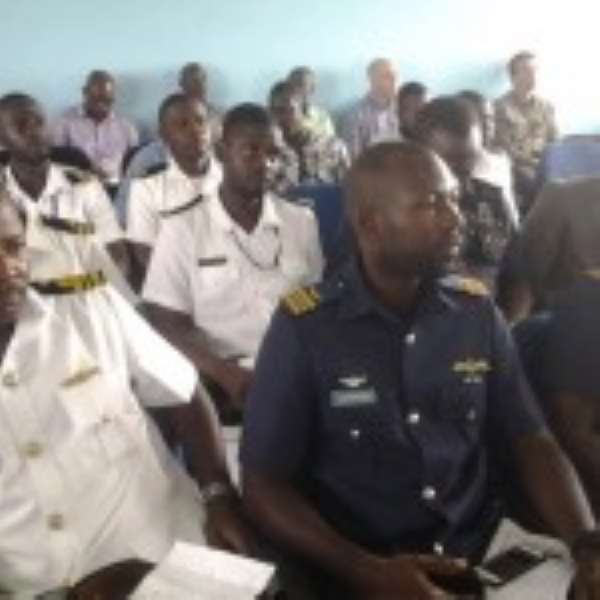 The Ghana Navy has expressed concern about the level of crime in the Gulf of Guinea and the Saharan Regions.
According to the Ghana Navy, the two regions have been plagued in recent times with high levels of piracy, armed robbery, oil theft, Illegal, Unreported and Unregulated (IUU) fishing, as well as drug trafficking, among others.
"These are complex transnational crimes which cannot be dealt with by any single nation."
To this end, the Ghana Navy stressed the need for cooperation between the various agencies.
Commodore Mark Ransfrod Nanabanyin Yawson, the Flag Officer Commanding Western Naval Command, revealed this at the opening ceremony of 'Exercise Obangame/Saharan Express 2016' at the Sekondi Naval Base yesterday.
It is an annual multinational maritime security exercise involving Navies from the sub-region, Europe and Latin America, which is led by the United States Navy.
It is aimed at building the capacity of the Naval personnel in the sub-region to maintain security in the maritime domain for socio-economic development.
It focuses on information sharing between maritime stakeholders.
He was happy that Economic Community for West African States (ECOWAS) and the Economic Community of Central African States (ECCAS) continue to collaborate with other African and Western nations in the exercise.
He was hopeful the exercise would evaluate operational capability to respond to maritime events and prevent maritime threats, as well as evaluate operation centre interoperability across the regions.
"During the 10-day exercise, personnel would be required to carry out various scenarios designed to enhance the task of preventing and combating maritime threats.
.
"Some of the scenarios will include hijacking at sea, oil pollution and trafficking of narcotics, among others," he added.
He stated that "this year's exercise has been designed to involve other maritime stakeholders to ensure interoperability between maritime partners.
"The objective primarily is to ensure information sharing between maritime stakeholders for efficient and effective handling of information," he stressed.
To this end, Commodore Yawson indicated that the Marine Police, Environmental Protection Agency (EPA), Narcotics Control Board and the Fisheries Commission would participate in the exercise.
He urged the participants to give off their best to ensure the successful conduct of the exercise, adding that "let us work towards reducing crime in our maritime domain."
Leader of the US Navy, Captain Crystal Stabloid, indicated that the grand opening ceremony would be held in Dakar, Senegal to officially commence the multinational exercise.
From Emmanuel Opoku, Sekondi