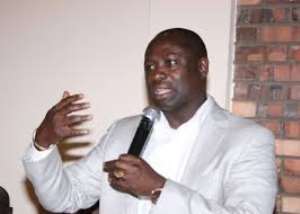 Kofi Buah, Ministry Of Petroleum
It is now clear that the crippling load management is giving way to sustainable supply of electricity in Ghana. However, to sustain the gains that have been chalked in the power sector over the last few months, our gas supply sources must be made to match up with the country's demand to guarantee optimal thermal generations. As it is widely reported, the demand for lean gas will hit a record high of 265 million standard cubic feet daily (mmscfd) in 2020 and subsequently reach 584 mmscfd by the last quarter of 2030 from the current demand of about 19 mmscfd.
Gas infrastructure has been crucial to thermal power generation, and has a potential of saving the country of huge foreign exchange reserves. Gas industry has been described as a game changer for obvious reasons. Light crude oil is quite expensive and cost the country dearly to import. However, Ghana has a huge potential of proven gas reserves that can be harnessed for her economic benefits. Unfortunately, the gas sector requires huge capital investments to explore and produce that is beyond the financial means of the country.
This calls for attraction of foreign direct investments in exploration and production sectors to harness the country's gas potential as soon as practicable. EPRI is however aware of some of the government's strategic interventions and partnerships that have been struck by the Petroleum Ministry with some oil and gas production companies. A number of deals with these companies are aimed at unearthing the gas potential of new discovery fields for the benefit of the country.
Apart from the one billion dollars investment in the Ghana National Gas Project, which is producing about 120mmscfd of lean gas for thermal generation and almost half of the country's LPG for domestic consumption, Tweneboa, Enyera, Ntomme (TEN) discoveries are estimated to deliver its first gas in the third quarter of 2017. This has the potential of producing about 80 million standard cubic feet (mmscf) of gas per day.
Another critical intervention that has yielded $7 billion investment is the Sankofa Project being spearheaded by ENI. This singular intervention receives financial supports from the World Bank and International Finance Corporation (IFC) which has been world-wide acclaimed. This collaboration between ENI and Vitol Energy is aimed at developing the Sankofa and Gye Nyame fields to provide adequate gas for optimal operations of the thermal plants for the next 20 years.
Arguably, this is considered as the biggest gas sector investment in the sub-region. The Sankofa project is expected to produce 200 mmscfd of gas by 2018. The gas from Sankofa project has an estimated value of 1.15 trillion cubic feet over its production life. With this volume of natural gas, it can be used to produce about 1,100megawatts (MW) of electricity. This can boost the country's generation capacity far beyond the anticipated target of 5,000MW by the government.
However, one significant threat that can undermine these efforts is an unabated plummeting fuel prices globally. The downward trends of fuel prices have become disincentive to many investors in both exploration and production sectors. Many energy companies have pulled back investments in new oil and gas projects due to the near collapse of fuel prices. For example, Qatar Petroleum and Royal Dutch Shell Plc have cancelled their plans to build a $6.5 billion petrochemical plant in the Emirate until further notice.
It is therefore refreshing that the Prime Minister of Italy, Matteo Renzi, has given the assurance that the Offshore Cape Three Points (OCTP) Sankofa Gas Project will continue as planned despite the falling crude oil prices. This is commendable risk assumption giving that further investments in the industry have been curtailed by some super majors. Oil and gas industry is full of risk taking, especially at this time when fuel prices are not attractive. The biting effects of these trends are greatly felt by independent oil and gas companies all over the world.
The minority in Ghana's parliament has raised issues regarding the contract sum, risk management, gas pricing and return on investment turns out to be shallow and lack merit. In every working democracy, it is the considered responsibility of the minority to hold the government accountable and in check. However, many of the issues raised by the minority were not convincing and lacked substance.
Most of their concerns ignored the current happenings in the industry. It comes across as the usual partisan call to gain mileage without due consideration of global prevailing circumstances. Anyway, the ministry of Petroleum's response is quite revealing and convincing. And therefore suffice it for now.
It is envisaged that if all these gas potential fields are harnessed properly, Ghana will be producing over 500mmscfd of gas by 2019. This includes but not limited to 120 mmscfd from Jubilee Oil Fields. The Sankofa project alone will bring on board about 200million and TEN oil fields will come on stream with an estimated production of 80 mmscfd. The total gas volumes of these sources are projected to generate about 3,000 megawatts of electricity. This is a piece of good news considering the fact that a growing number of energy pundits have already predicted gas supply deficit in the near future.
Another success story that will augment the existing gas potential is the introduction of Liquefied Natural Gas (LNG) in the country. EPRI has recognized the frantic efforts made by the Ministry of Petroleum in conjunction with Ministry of Power to establish a Floating Storage and Regasification Plant close to Tema Thermal Corridor with the capacity of about 120 mmscfd. This intervention if well implemented could provide enough gas to power every thermal plant situated in that enclave.
It is commendable to point out that cabinet has also given approval for the interconnection of Ghana Gas pipeline with West African Gas Pipeline to ensure optimum gas supply. This interconnectivity is to enable reverse flow of gas between the two gas pipelines to serve the connected countries in case the volume of gas supply increases. As it stands now, the West African Gas Pipeline supply lean gas for only Tema Power area, while the Ghana Gas Pipeline provide lean gas to Aboadze thermal power alone.
This means that a highly pressured lean gas in the WAGP can only serve thermal plants in Tema and vice versa. This is exactly what the cabinet decision sought to address by March this year. It is therefore, implies that a highly pressured lean gas in the pipelines in one case should be enough to serve the two thermal enclaves when the project is completed somewhere in March.
It is therefore projected that Ghana will soon phase out the use of light crude oil in the generation of electricity. President John Dramani Mahama declared, at the recent UN Climate Change Conference of the Parties (COP) held in Paris France, that the use of crude oil to generate electricity in Ghana will cease by 2020. This will be made possible due to proven reserves of gas already stated. Many countries have considered the use of gas as a transitional power source as part of short term strategic plan towards preservation of the environment.
Minister of Petroleum, Hon. Emmanuel Armah Kofi Buah recently announced that "80% of our source of power will come from thermal generation with gas as the critical feed stock." However, in the view of EPRI, this should remain a transitional measure and other power sources such as renewables and "clean coal" power plants should be explored and deploy proportionately to ensure security of supply.
Even though poor rainfall patterns have made hydropower source almost redundant, it can still play a significant role in the generation mix. Policy makers should not discount it completely in the generation mix albeit it's dwindling capacity. Putting our eggs into one basket could be dangerous to our electricity security in the long term.
With these strategic interventions and investments put into action by the government and other stakeholders, EPRI is therefore convinced that the current stable supply of electricity can be sustained. But to make this dream come into fruition, the Gas Master Plan should urgently receive cabinet approval to guide the country's gas policy, transparent regulatory framework, funding sources, gas pricing policy and infrastructure requirements as well as institutional mandates for the agencies under the gas sub-sector.
It might seem gloomy now in the power sector, but the future prospects are brighter with right policies, strategies and interventions, coupled with determined, collaborated efforts to be implemented by inter-ministerial and sectorial deliberate actions aimed at overcoming any impediments. The only tool that will defeat the realization of this dream will be complacency on the part of the government and other stakeholders.
Alhaji Mustapha Iddrisu Energy Policy Analyst Energy Policy & Research Institute (EPRI)