AngloGold PR Manager Crushed To Death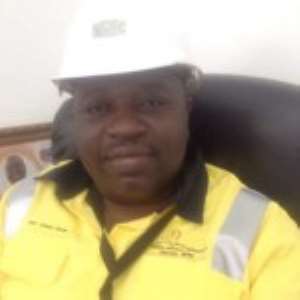 THE Corporate Affairs Manager of AngloGold Ashanti (AGA), John Owusu, met his untimely death on Saturday when he was knocked down by the company's vehicle as it was reversing during a renewed clash between illegal miners (galamsey operators) and AGA security guards.
He died of multiple injuries, including pelvic and rib fractures, inside the company's mine around 8:30 am.
Mr Owusu was among a team of AGA officials and security guards who had gone to access the security situation at the invaded parts of the mines by illegal miners when they were attacked with stones.
The AGA officials quickly jumped into their vehicles to run away from the scene during which one of the vehicles inadvertently knocked John down and ran over his leg in the process, an anonymous officer told DAILY GUIDE.
The galamsey operators invaded the mines following the withdrawal of military personnel by the government a few days after a visit to the area by the Lands and Natural Resource Minister, Nii Osa Mills, a company source hinted the paper.
Big John, as he was affectionately called, was taken to the AGA Hospital soon after the incident, but died later while medics were preparing him for surgery to treat his wounds, Dr. Kwabena Bannie Assenso, Chief Medical Officer of AGA Hospital, said.
.
According to him, the Corporate Affairs Manager passed on around 11:00 am, shortly after an X-ray had been taken of the affected parts of his body.
"He died from his wounds. We found multiple injuries all over his body when he was brought to this facility for medical care," the Chief Medical Officer disclosed.
AGA has not known peace since the beginning of agitations by some residents, who want to be allowed to carry out galamsey operation on the company's concession.
And it appears the ruling government, which promised the local people of concession to carry out their operation, has given in to the pressure following street protests recently in the gold city.
From Ernest Kofi Adu, Kumasi