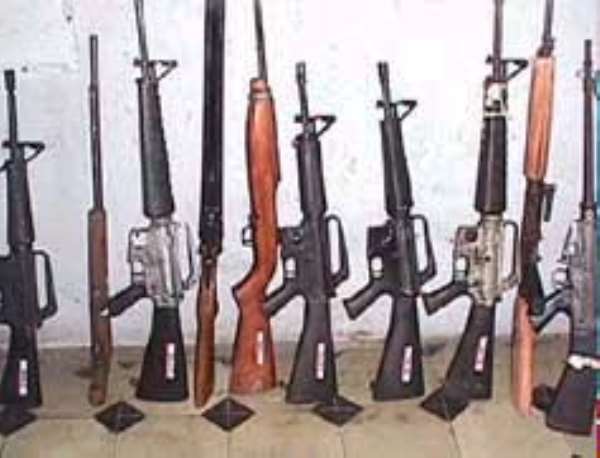 .... CHIEF URGES GOVT TO ACT The regent of Gukpegu, Alhaji Ziblim Abdulai, has appealed to President Kufuor to ensure that all unauthorised weapons circulating in the Dagbon State are retrieved.
Making the appeal when President Kufuor paid a courtesy call on him at his palace, Alhaji Abdulai said that according to rumours some politicians were really determined to create panic and confusion in Dagbon. He said it was difficult to dismiss these rumours because of their recent bitter history.
In his response, President Kufuor said that because of the catastrophic incident that had occurred in 2002, he had mixed feelings about his presence in the Dagbon State.
He said the murder of the King was "a curse on the land," which had engulfed him with feelings of "torment and bereavement."
President Kufuor said the Wuaku Commission which was set up to investigate the incident had set out not to hide the truth but to let it out.
Addressing a mammoth rally held in the town later, President Kufuor appealed to the chiefs and people of the Dagbon Traditional Area not to allow anybody to manipulate them to achieve their political ambitions.
He stressed that there were some elements in the society who were politically ambitious, and had decided to use the unfortunate incident in Dagbon to forment trouble in order to achieve their ambitions.