2016 Sudan Premier League: Ezekiel Tetteh Scores 4 Goals For Al Amal Atbara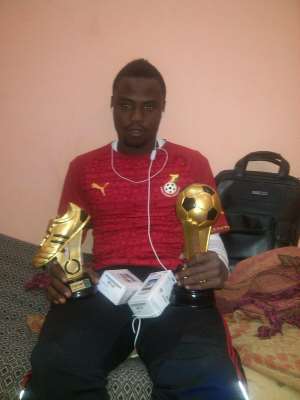 Ghanaian Striker for Sudanese Sports club: Al-Amal SC Atbara, Ezekiel Tetteh has scored 3 goals and one assisted in the ongoing pre-season games.
In Ezekiel's first home game for his club last Wednesday, January 27, 2016; he netted the first 2 goals to nil against Al-Amir with goal 1 at the 26th minutes and goal 2, in the 70th minutes of the match.
And on Sunday, January 31, 2016; he proved his Prolific competence as a striker with 2 more goals (goal 1: self-scored and goal 2 - assisted) in the round 2 of the league against El-Nsoor.
With his performance in just two league games, Ezekiel has been crowned as the man of the match awards twice.
Excited Ezekiel Tetteh indicated, "I feel great and good to start my first game in the season with such a performance. I am encouraged more to work harder because I want to become a Prolific Striker in the world of football."
Currently represented by the Sports Faculty Limited, a subsidiary of Prolific Sports Inc.- Ghana; Ezekiel was elated to inform his management about the new development and capped his excitement with the news of him being crowned as the two-time player of the match.
Ezekiel Tetteh is a former striker for football clubs including Waeco Academy (2003-2010); Kpando Hearts of Lions - Premier (2010-2012); Okwahu United - first Division (2012-2013); Accra Hearts of Oak - Premier (2013-2014); and a stint with Kirkuk SC in Iraq (2014-2015).
He has scored 36 goals - Waeco Academy: 22 goals; Kpando Hearts of Lions: 5 goals; Okwahu United: 9 goals. Ezekiel Tetteh was crowned the 2012/2013 Goal King.
Meanwhile, Ezekiel Tetteh's management- Prolific Sports of Ghana wishes him the best of luck in his third league game against Nile Shindi coming off tomorrow, Wednesday, February 3, 2016.