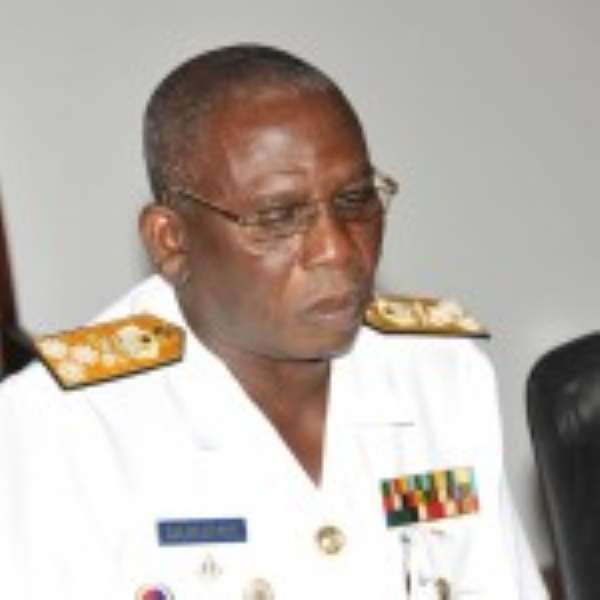 Vice Admiral Mathew Quarshie
The case involving the Ghana Armed Forces (GAF) and 225 ex- officers over illegal deductions from their pensions took a dramatic twist yesterday when an Accra High Court awarded a GH¢1,000 fine against the former.
GAF incurred the wrath of the judge over what the court saw as foot-dragging by the Force in filing its defence in respect of the case.
The case has been adjourned indefinitely.
The ex-servicemen, who were recruited between 1988/89, had served the country over 25 years before they commenced their terminal leave in December 2014.
They sued the Chief of Defence Staff (CDS), Vice Admiral Mathew Quarshie, for paying them less than the entitlements government approved.
Joined to the action is the Attorney-General (A-G) and Minister of Justice.
The Finance Ministry approved GH¢142,071,974 million as gratuities to 1,340 persons including the soldiers.
The payments were to be made in two tranches – 80% and the other 20% after they had vacated the barracks.
Government had also approved the payment of GH¢2,103 per soldier to cover their transportation back home.
.
In their statement of claim, the former soldiers gave the breakdown of their expected first tranche of entitlements.
"It is the plaintiffs' case that contrary to the amount approved by the government to be paid to them, they received monies less than what the government had approved," it said.
An SWO was paid GH¢65,000 instead of GH¢92,859; a WOI received GH¢60,000 instead of GH¢85,919; a WOII got GH¢55,000 instead of GH¢80,731; a Staff Sergeant, GH¢50,000 instead of GH¢72,007; and a Sergeant, GH¢45,000 instead of GH¢68,913.
The ex-soldiers want the court to declare that the deductions made by the Chief of Defence Staff from their end-of-service benefits were unlawful.
The soldiers have also asked the court to order the CDS and the A-G to ensure they are paid the deductions with interest.
"Unless compelled by an order of the court, the defendants will not pay our gratuities as approved by the government," their statement said.
The plaintiffs are also seeking a declaration that the deductions made by the CDS were unlawful.
They also want an order to be directed at the CDS and the A-G to cause to be paid, the deductions made on their entitlements as approved by the government.
The ex-soldiers want the court to compel the CDS to pay interests on the amounts deducted from their entitlements as well as other costs, including legal fees.
A DAILY GUIDE Report