Eastern Police Launch Election Security Taskforce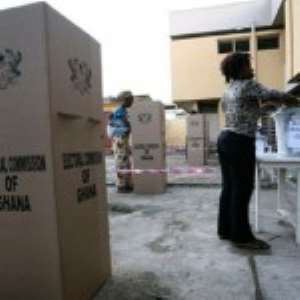 The Eastern Regional Police Command has inaugurated a special taskforce to oversee the 2016 general elections.
The Regional Police Commander, DCOP Awuni Angwubutugbe, addressing a press conference on Thursday, said "In less than a year, the country will be going to the polls to elect leaders who will run political affairs."
DCOP Awuni said this year's elections would not be the first and definitely not be the last, as previous elections presented a lot of lessons to the Police.
"It is in this light that we are reactivating the Eastern Region Election Security taskforce to plan and implement decisions that will reduce the level of potential volatile factors that come with elections," the Police Commander stated.
According to him, the taskforce is expected to plan, coordinate, monitor and implement actions that will ensure free, fair and peaceful elections.
He hinted that the Police Command had instituted seven technical sub-committees namely Joint Operation Center (JOC), Media and Communications, Personnel Mobilization/Deployment, Ballot Security, Finance and Budget.
The rest are intelligence, legal, investigations and prosecution and transportation and logistics sub-committees, which will make their work smooth.
He, however, entreated all members of the sub-committees to promote the cause of the taskforce.
"We would in due course provide a contact telephone number for easy access of the members of the general public who might wish to provide information to the taskforce," he added.
From Daniel Bampoe, Koforidua