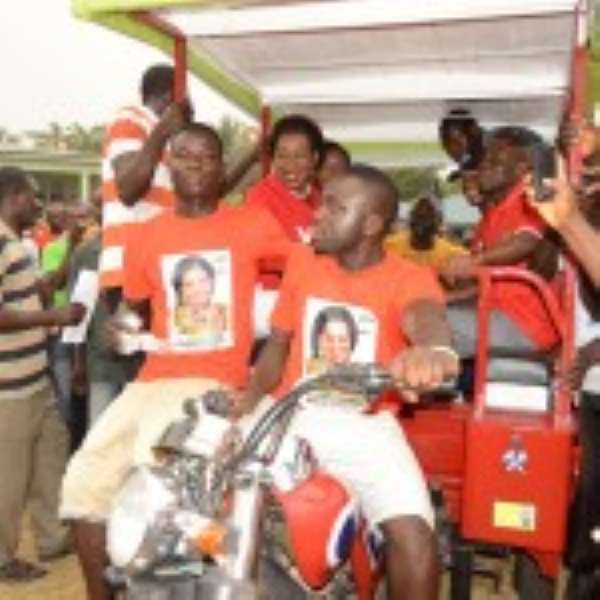 National Democratic Congress (NDC) Member of Parliament (MP) for Agona East constituency in the Central Region, Queenstar Maame Pokuah Sawyerr, has donated 10 tricycles to about 10 communities in the constituency.
The tricycles have been specially designed to carry people in the buckets with tarpaulins to cover them if it rains.
The vehicles, purchased by the MP, who is the Deputy Central Regional Minister, with her own resources, are expected to aid movement of persons, particularly school children and the aged, in communities such as Okotokwa-Okwakwaa-Fawamanya, Bewadzi, Kwasikum Brepro, Dnabone-Kukwaadu-Duakwa, and Ankama-Akwakwa-Mankrong junction.
The donations were made to the communities in December 2015 during the festive period when Maame Pokuah organised a special Christmas party for about 2,000 constituency executives and grassroots supporters of the NDC
This was after she had realised, during her campaign tour of the communities in the November 21 parliamentary primaries of the party, that transportation was the major problem for most residents in the constituency.
Maame Pokuah, who has shown much commitment in meeting the needs of the constituents, stated that after hearing the complaints of the people concerning transportation challenges, she decided to purchase the tricycles at an undisclosed amount to help ease the burden.
Aside the tricycles, she donated rice, crates of eggs and other food items to each of the 2,000 persons who attended the party.
Maame Pokuah told DAILY GUIDE that while the residents were waiting for contractors to begin work on the roads, she had decided to transport them and their farm produce on a daily basis as a way of preventing them from walking the dusty long distances.
.
Just before the end of 2015, the MP commissioned three modern community centres in the constituency, among other projects.
The state-of-the-art centres at Agona Bewadze and Asamoakwa reportedly cost about GH¢28,000 whilst the one at Akwakwa, which is the biggest of the three, cost GH¢32,000.
The MP called on all residents in Agona East to put aside their party colours and unite for development.
[email protected]
BY Melvin Tarlue